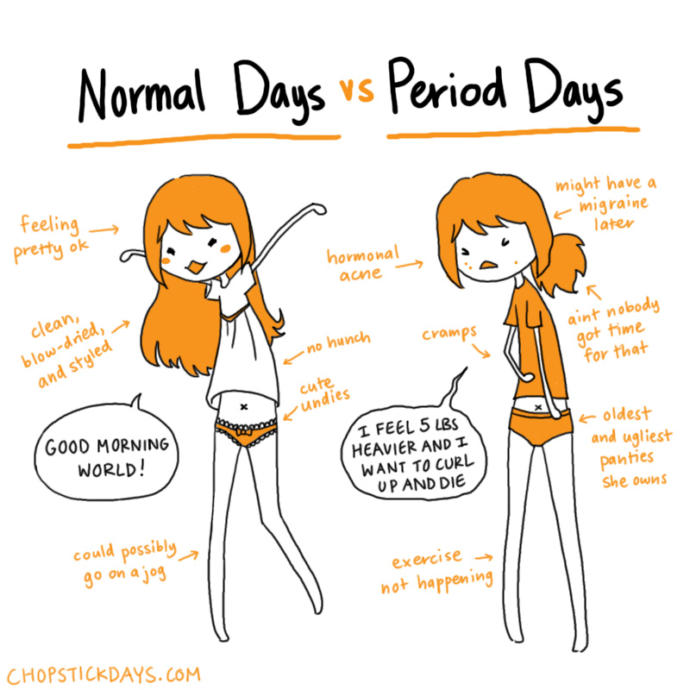 Periods can be really crummy, especially if you have a heavy flow or lots of uncomfortable symptoms. So why not do everything you can to make it easier on yourself? These are my favorite tips for keeping my period from making me want to pull my hair out. I hope you find a few of them helpful, especially if you're prone to difficult or stressful periods.
(Always use your own judgement when making any decisions that could affect your health, and ask a doctor if you have any questions. None of these tips are intended as medical advice.)
1. Inventory your supplies a week in advance
About a week before you expect your period to start, take an inventory of all the supplies you need, such as feminine hygiene products, painkillers, and other medications or supplements. That will give you plenty of time to add items to your shopping list, so you won't have to stress about supplies once your period starts. If you wear specific pairs of underwear during your period (I only wear black pairs, so I don't have to deal with stains), check to make sure they're clean and ready to go. If they're not, pop them in the wash so you'll have them available once your period begins.
2. Try a period tracker
There are lots of great period trackers that are available as smartphone applications. My personal favorite is one called P Tracker. Period trackers can help you predict your period, pick up on trends and patterns during your cycle, and track various symptoms throughout the month. My periods tend to be irregular so my tracker is rarely correct about the exact start date of my period, but I still find the tracker super useful for making notes about my health and tracking symptoms.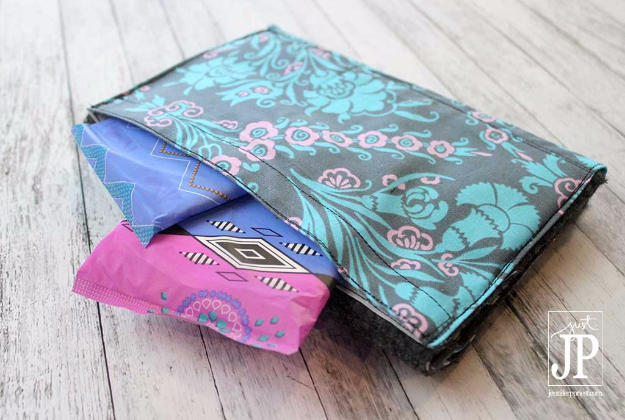 3. Make an "I may or may not get my period" kit for overnights
This tip is geared towards ladies like me with unpredictable periods. To eliminate period stress during your travels and while packing, prepare a small kit in advance with everything you'll need if you get your period unexpectedly on the road. That way, when you're packing for a short trip and your period is a possibility, all you have to do is throw your period kit into your suitcase and you're good to go. No more under-packing, no more over-packing. No more debating whether you should bring two tampons or twenty based on the exact probability of getting your period while you're away.
I'd suggest designing your kit based on the length of your typical short trip or weekend getaway (probably 1-3 nights). You can also make a smaller kit for day trips, or a larger kit for longer trips, depending on your needs. In addition to feminine hygiene products, consider adding a spare pair of underwear, travel-sized medication bottles, a few individually wrapped cleansing wipes, or even a mini stain removal stick. I keep my period kit in a fabric toiletry bag, so it's compact, durable, and discreet.
4. Take time to relax
This one probably seems like a no brainer, but when life gets hectic, personal time can fall by the wayside. If you tend to feel extra tired and drained during your period like I do, then it's even more important to take time to rest and recuperate. This can require some advance planning, especially if you have a busy schedule. Try to minimize your commitments during your period to leave yourself a little extra time to relax. Then take full advantage of that time by treating yourself to a hot bath, spending some time outside, or even just catching up on sleep- whatever it is that will help you feel rested and rejuvenated.
5. Have sex

Only if you and your partner both want to, obviously. Period sex is a personal choice, and it's not for everyone. But having sex during your period can help soothe cramps and improve your mood, so if you feel comfortable with the idea, throw down an old towel and go to town. Just be prepared to hop in the shower afterward. You should still take the same precautions that you would take if you weren't on your period, in terms of birth control and STD protection. If sex isn't a feasible option or period sex isn't your thing, consider masturbating instead.
6. Try an alternative feminine hygiene product
Disposable tampons and pads are only two of many feminine hygiene products. There are lots of other options, including menstrual cups, reusable pads, reusable tampons, and period underwear. Depending on your preferences and your individual body, an alternative product could make your period much easier. For example, if you have a heavy flow, you might want to try a menstrual cup. Most menstrual cups can be left in for up to 12 hours, and can be worn overnight. Unlike tampons, they are not associated with TSS. Reusable products can also save you money, and they're environmentally sustainable. Yes, there's an ick factor, but these products are totally safe to use as long as they are used properly.
7. Invest in some period proof undies
There are several brands of period underwear on the market. They can be leak proof, absorbent, or both, depending on the brand and the style, and may be either disposable or reusable. Period underwear tends to be a bit pricey (somewhere in the ballpark of $30 a pair for reusable ones), but depending on your individual period, they may be worth it. I use my period underwear as backup and leak protection when I'm wearing a tampon or menstrual cup, and I use them on their own when I'm spotting or waiting for my period to start. Period underwear has also eliminated my need to sleep on a towel to protect my bedding from leaks, which is amazing, because I hated that towel with a passion.
8. Don't let the taboo get you down
There's a lot of shame and secrecy that surrounds menstruation, and that can make your period feel even more stressful. Whether you've had to sneak a tampon to the restroom in your sleeve, experienced a leak in public, or panicked over how to handle your period during a sleepover, you've probably experienced some amount of stress, shame, or fear as a result of your period (especially at a young age). But periods are totally normal and natural, and there's no good reason for women to be made to feel ashamed of their biology. So embrace it! Next time you deal with embarrassment over your period, take a deep breath, and remind yourself that what you're dealing with is totally normal and nothing to be ashamed of. I try to be open about my period with others (within reason, of course) to promote a healthy attitude towards menstruation and help defeat the taboo.
Thanks for reading! I hope this myTake will help make your periods a little less stressful.
Image sources:
chopstickdays.com
beaconhealthadvice.com
seattlespectator.com
diyprojectsforteens.com
huffingtonpost.com
gladrags.com