Periods are those monthly visits that most all women of child bearing age have and yet, talking about it, other than to complain, tends to be frowned upon. Just to be clear, they do SUCK, but there is a lot of information volleyed about that isn't necessarily shared as much just because for many women, and people at large, it is still considered some type of taboo subject even though half the populous has one. So ladies, here we all are in a 'secret safe space,' ha, so let's talk about your period!
1. Is it normal for me to wear a pad vs. a tampon?
There is a myth in the world of periods that once you become a woman in earnest, you're supposed to apparently ditch pads and "mature" into sticking a plastic applicator up your hoo-haa, but you may be interested to learn that in a survey by the CDC, 62% of women reported the use of pads over tampons with some overlap for women routinely using both products as the survey did not specify if they only used one or the other.
In another poll however, Euromonitor does have data on how many tampons, pads and panty liners women in the U.S. have bought since 2000 — and have even projected patterns all the way to 2019 in the chart below indicating that pads are still the preferred choice. Before you pick a side, frankly it doesn't matter what you prefer, hello, it's your body, but you don't have to let anyone convince you to use either product if you personally are not comfortable or do not like one or the other.
2. Do I have to have 12 periods a year?
No! You actually do not need to have Aunt Flo visit you 12 times a year, and thank God right, that b*tch can be annoying as f*ck! Many women on birth control routinely do not take the placebo pack with their birth control and opt to just take BC pills effectively skipping monthly visits. You can do this on birth control, but not having 12-ish a year naturally, may be a sign of other health issues. On IUD's you may not see Flo for an entire year, yeah!
Historically long before BC was even a blip in Gregory Goodwin Pincus's mind (yep a dude invented it), women typically had 4-6 periods in a year naturally vs. the 12 most of us tend to have now. There is actually no real medical reason why you need to have a period 12 times a year especially if the sole reason we have them is a fertility cycle which if you are done with kids or don't want them or aren't having them like this year, you can take a break from using BC/IUD's if you want to. And in case you're wondering, once you cease using these methods, your fertility cycles do return to normal. Ask your doc about it for more info.
3. Wait, my period is"a luxury?"
According to some 40+ states, your period is a luxury ladies right up there with say having a smoke (eww, don't do it), taking a glorious sip of wine, buying your own diamonds and buying your own rings, and cruising in your new foreign sports car with a name so tongue twisting you'd have to pay someone else to say it right. It's discrimination in the highest form because well, not that you needed me to tell you, but this is a biological process that happens to us and not an optional drink you can have at a nice bar.
I mean, if it's so luxurious, does that mean the boss or your teacher is cool with you coming in and just free bleeding on every chair from the front door to the back? Let me know because these same people claiming luxury don't want to have to sit in my aftermath, I guarantee that! Meanwhile, many a lady, like yourself, have lobbied hard against these taxes and won in a few states, but get involved in the protest and speaking to lawmakers because you shouldn't have to pay extra for something that ain't a luxury..hmm-k!

4. Is there anything I can do to ease up my cramps?
Bring it in for a hug, really, I quite literally feel your pain. Let me say that for some women, there is no natural or over the counter thingy that can help them, and if you have tried what I'm about to list and you are still experiencing severe, mind numbing, head splitting, makes you cry on your hands and knees cramps throughout your period and you have heavy bleeding and other symptoms that make it impossible for you to function SEE YOUR GYNO ASAP. Okay, I mean that. You may have something that requires medical attention and no one should have to suffer like that.
Okay, so the above is not you, lucky you, so what can you do? Several options, take your pick. Birth control can help ease PMS symptoms. Taking Ibuprofen, motrin, Midol or other over the counter pills can help tell your cramps to shut the hell up BUT start taking them right before, as in a few days before, the start when they tend to be more effective. Eating low salt diet prior to and during your period and drinking plenty of water can ease bloating. Eating less sugar during and right before can help ease inflammation. Take a bit of magnesium to help ease up on the cramps. Help yourself to a little personal fun time with yourself or a partner in the boudoir which can help relax your angry lady parts. Hit up that abdomen with some heat to help relax cramping muscles and hit the trails for some exercise which can do the same.
5. I noticed that I (fill in the blank), am I normal?
-I have more than one period a month
can be if you have a shorter cycle like 23 days. It's March 1 you have a period that lasts 5 days through say March 5, your period could start again as early as March 27, 28, 29th. A typical cycle can be anywhere from 21 to 35 days long.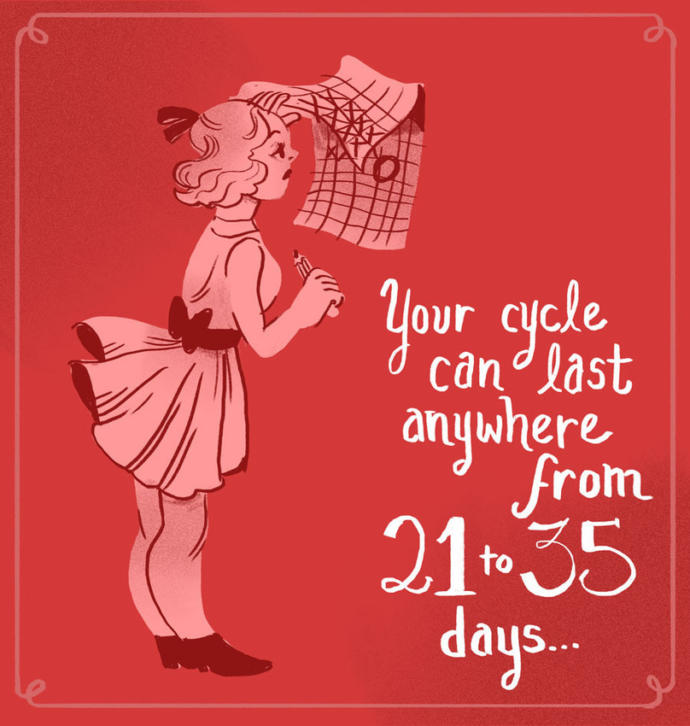 -I notice blood that looks brown towards the beginning/end of my cycle
This is a normal color change. It happens when the blood is older and not being expelled from the body quickly.
-I missed my period
Yes, this maybe, probably, could totally mean you're pregnant, but let's take a deep breath here. If you haven't been having sex recently, or you used prophylactics/BC for both him and you, and have been completely conscious and aware of your surroundings over the past month, a missing period can be the result of other things "Mary." It could be stress, weight changes, extreme diet or exercise changes, or other medical conditions. If it bothers you or you feel something could be wrong, see your Gyno.
-I don't have regular periods
For up to 6 years after your first ever period, your periods may be irregular. This is very normal. However, after that time, missing a period here and there is not a big deal, but you should be concerned if the days between your cycle are irregular, meaning one month your cycle is 25 days, the next it's 30, the next its 23, the next it's 30 again because this may be an issue with your ovulation that may effect your fertility down the line. See your Gyno. And again, stress, eating disorders, medications, too much exercise can all wreak havoc on your system.
-I get these red jelly like clumps during my period
Yeah, those are clots. Gross, huh? Normal too. It just means your bleeding like a son of a b*tch right now. Clots should however be relatively small a piece, like nickle size. If you are getting large ones and a lot of them on a regular consistent basis throughout your period, not just a few here and there or on the first couple of days, and you haven't just given birth, you guessed it, see your Gyno.
-I'm soaking through pads/tampons every 2 hours
Yeah, this is most likely not going to fall in that normal category outside of you just had a baby. Heavy heavy bleeding like this typically indicates that something is wrong and yes, once again, see your Gyno.
****
Maybe you learned something new reading this and maybe you totally didn't, but whenever you report or talk about such things with the sisterhood, keep in mind that as informed as you may personally be, not everyone has had the same education on their periods or other health matters as you may have had. If ever you find yourself in a position of talking to someone about their personal health, try your best not to judge their knowledge or lack thereof on a subject because for a lot of women it still is very hard to discuss these things and in doing so you may be helping them in some meaningful way, protecting their health, or even saving their life.