I see lots of questions from women about maintaining pubic hair on here, so what do I do? Decide to write a Take about it, of course. I'm going to explore the options for taking care of your bush, based on both internet research and my own experiences.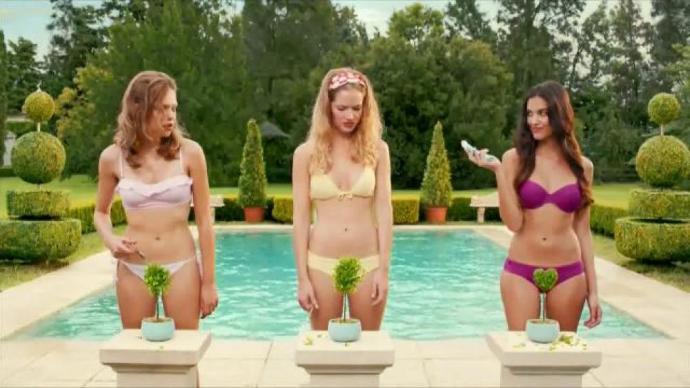 Why are you grooming down there in the first place?
Before we get any further, you need to consider why you want to change/get rid of hair down there.
Are you doing it to conform because that seems like the norm?
Are you doing it for someone else?
Are you doing it for you? (i.e. confidence boost, comfort, easier to maintain etc)
Whatever your reasoning may be, I encourage you to do what you want to do, and don't worry about what anyone else is doing or what people are telling you to do.
What you should know:
While not everyone finds pubic hair attractive or convenient, it is there for a reason! It protects and cushions the delicate skin down there, makes sure your vaginal folds don't stick together, and also protects your vag during sex. The hair also works as a net, trapping bacteria that could otherwise cause infections.
Some studies have also shown that leaving your hair as-is can reduce the risk of STI's, but I don't think it's a *huge* deal in terms of how much difference it makes.
Shaving
Shaving is most popular and inexpensive method of grooming down there, but there are a few things you need to keep in mind if you do choose to do this. You gotta be careful of nicking yourself, because a) it hurts, and b) it can become infected. You can also get razor burn, which is very common, and it's where you get lots of red bumps that sort of look like pimples, and gets *really* itchy.
Also, the regrowth is something to be wary of, some people even have stubble appear in less than 24 hours, and when the hair does grow back it's generally more prickly, coarse and thick. And, (yes, there's more) you can get ingrown hairs, which are not only painful, but can again lead to infection if not treated.
Some tips if you do decide to go for it:
* Trim your hair down with scissors beforehand (and either wash the scissors afterwards or keep them separate from other stationary).
* Either do it in the shower, or just afterwards, so the hair is a tad softer from being under the water.
* Use shaving cream that's suitable for down there, as that'll help to reduce irritation.
* Take it slow, and shave in the direction of the way the hair is growing, not against it.
* Afterwards, don't apply rich lotion or creams to moisturize, but if it's irritated try aloe vera, baby oil, or baby powder.
Waxing
Now, while technically there are two options for this, either a DIY kit for at home, or going to a salon, I really don't think it's a good idea to go with the first, for a few reasons. Not only have you got to make sure your technique for applying the wax is okay, it's gotta be just the right temperature, and you've also gotta have the balls to be able to pull those strips off (kudos to you if you can do this, btw).
So if you think that might be a problem, salon is the way to go. You may find it a tad awkward, but you gotta keep in mind they do this day in day out, so they're not going to be fazed by anything. They're trained professionals and will make you feel as comfortable as possible, and are meant to talk you through everything if it's your first time. Talk to friends for places they can recommend, and check out reviews online too.
As for the pain, it really varies person to person, but if it's your first time, I recommend trying the bikini wax, it's the most tame and least painful of the three, and then after that, you can make your mind up. Taking an over-the-counter pain reliever like aspirin or ibuprofen 30 minutes before waxing might help a little too.
There are a lot of different styles, and here's a rundown on some of them, but it's always good to go in to the appointment with an idea of what you want.
- Brazilian, also known as the Hollywood: everything is removed, so you're as bare as you were as a newborn baby.
- Bikini: Removes the hair around your underwear line.
- Landing strip: all your hair is removed, with the exception of a little patch on top. There are lots of different styles and shapes you can get your shaped into, as seen below.
Hair Removal Cream
Now hair removal creams can be pretty painless, but they require careful application and use. The chemical cream actually breaks down the bonds that hold your hair together, in essence dissolving it so that you can just wipe it off your body. This may sound super easy and pain-free, and it can be, but there are also some things to worry about.
I believe most creams are only designed for the outer bikini line area (and who would want to put a shit load of chemical-laden cream right near your bits anyways) and sometimes they can irritate and burn and you could even be left with a chemical burn. For this reason, it's vital that you test it out on a small patch of skin beforehand to make sure there's no reaction.
And if it's left on for too long... all I know is that *bad* things happen.
It's also important to note that there isn't any research explicitly assuring us that these creams are in fact safe for use on your genitals. So I would not recommend this to anyone wanting to go the full Hollywood.
Laser Hair Removal
The most expensive option on the list by far, but arguably one of the best, in the long term. Laser hair removal uses a medical grade laser to remove hair follicles. If you Google something along the lines of 'Laser hair removal' you should be able to find your local clinic along with a list of prices. You can get laser done on pretty much any part of your body, and your bush is no exception. You can choose whatever style you like, and depending on the clinic and package, it may take several sessions spaced over however many weeks (along with maintenance sessions once or twice a year following on from that) for it to be fully effective, but you'll notice the difference almost immediately.
Now this doesn't mean all your pubes will drop out in one go, but you'll definitely see a stunt in growth over time, eventually to the point where they're barely growing back at all. It works like this: you are required to shave all the areas you want lasered beforehand, and then they use the machine over the freshly shaved area. In between sessions, you're given an assortment of lotions to apply depending on the clinic, and one of these will help exfoliate the skin and get the dead hair follicles to fall out. You're also permitted to shave in between sessions as well, so no 'regrowth period' necessary.
And as for the pain, some people describe it as a little pinch or zap, but I can assure you it's nothing like waxing and isn't nearly as bad. It can also feel a little sensitive up to 24 hours afterwards down there, but other than that, there are no other painful acts involved. In Summer you are supposed to put on sunscreen on the exposed areas of skin, but for the bikini area, this shouldn't be an issue.
Au Natural
Nothing wrong with going full hippie and keeping it all either, whether you trim it or go wild and free -the choice is up to you!
Hope you found this useful!
Luci :)