Since I'm nearly 26 years old, I decided to compose a list of movies which have been released during each year of my life. I figured I would have a little fun here.
I'll go ahead, and tell you right now that Action-Adventure, and Romantic movies are generally not my cup of tea. My favorite genres tend to be Horror, and Comedy.
1990: Teenage Mutant Ninja Turtles
Who didn't like this original cartoon? This movie has my childhood heart to this day. I've still never seen the newer movie releases, and I don't care to.
1991: The Silence of the Lambs
In 1991, Anthony Hopkins decided to play one of the creepiest villains in movie history. This movie still gives me goosebumps.
There's no crying! There's no crying in baseball!
1992: A League of Their Own
Based on the historical "war era" of Major League Baseball, it was pretty awesome watching a bunch of women play ball just as good as the men did. Surprisingly, there still hasn't been a female Major League Baseball player.
Mario, I have a feeling we're not in Brooklyn anymore.
1993: Super Mario Bros.
Yes, I didn't pick Dazed, and Confused for 1993, and yes, I know this movie is hated by many. Why are the Goombas gigantic? Why is Koopa/Bowser a short, blonde Caucasian guy? Why did a human give birth to Yoshi? Why is Toad a musician? Who the hell are Iggy, and Spike, and since when did Koopa have cousins? And where are the other enemies? Nobody knows. So even though this movie is nothing like the Super Mario Brothers video game series, I still cherish it to this day.
Life is like a box of chocolates: You never know what you're gonna get.
1994: Forrest Gump
This may have been the obvious choice for this year(or even all time), but this movie is epic beyond proportions. It's one of the only movies I can think of which has potential to make people laugh, cry, become bored, confused, and suspenseful all in the same movie.
1995: Seven
A movie about a murderer who kills people based on which deadly sin they're guilty of? Why not? Not only is the plot genius, and the ending is twisted, the entire movie is very disturbing, and gruesome.
1996: Happy Gilmore
I think this is Adam Sandler's best movie, and there will never be a scene as awesome as Bob Barker getting in a fist fight on a golf course.
1997: Liar Liar
You may have expected Titanic in this slot, but in arguably the best comedy of all time, Jim Carrey shows us why he's a comedic genius.
Good morning, and in case I don't see ya, good afternoon, good evening, and good night!
1998: The Truman Show
This was a close battle with The Waterboy, but this movie is extremely underrated, and is the perfect pilot movie for introducing people to the basic principals of Sociology(I first saw this movie in my high school Sociology class). Not only does this show exploit reality television, it makes you wonder: Are we ACTUALLY a product of our environment?
Please, remove my blinfold. I'm afraid of the dark.
1999: The Green Mile
1999 was a tough pick, since there were so many amazing movies released that year. However, the most heart-wrenching Stephen King adaption takes the cake for this slot.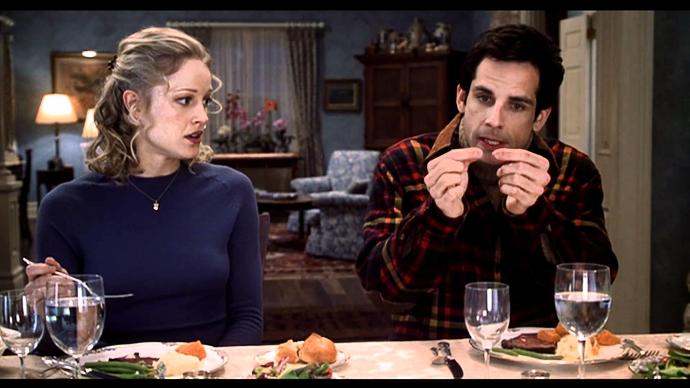 2000: Meet the Parents
This movie proves that you don't need "slapstick" behavior to have a hilarious movie which has key dramatic, and romantic moments as well. Robert Di Nero in this movie is amazing.
2001: Jeepers Creepers
The movie to spur off the soon-to-be series(soon to be released third installment) stills scares the fecal-matter out of us to this day!
Ladies and gentlemen, welcome to my submarine lair. It's long, hard and full of seamen!
2002: Austin Powers in Goldmember
The third movie of the spoof of the James Bond: 007 series may have been the best one of them all. The addition of Goldmember is too rich.
You better get used to it Stanley, you're going to be thirsty the next eighteen months.
2003: Holes
2003 was another awesome year for movies, so the competition was immense, but I had to pick the best movie adaption of one of the best teen novels of all time.
I have a nephew named Anfernee, and I know how mad he gets when I call him Anthony. Almost as mad as I get when I think about the fact that my sister named him Anfernee.
2004: Mean Girls
While I'm still very very very skeptical to even begin watching the made-for-TV sequel to this movie, it's so fetch to pick this movie for 2004. Or maybe it's only okay if someone else says that?
2005: Saw II
The entire Saw series had possibly the most creative storyline in movie history, but I still rank the second movie in this epic slugfest the best one of them all!
2006: Little Miss Sunshine
There are two types of people in this world: Those who like this movie, and those who don't. It also helps that 2006 was a very weak year for movies.
You can choose to repeat this hour over and over again, or you can take advantage of our express checkout system.
2007: 1408
Another movie adaption based off the works of Stephen King proved to be the freakiest, and most thrilling movies of the decade.
2008: Cloverfield
Not to be confused with the semi-sequel which just recently came out, 10 Cloverfield Lane, this movie left you on the edge with the first-person point of view filming, and I enjoyed going into the movie theater not knowing what the movie revolved around.
It's like masturbation on an airplane. It's not illegal, it's just frowned upon.
2009: The Hangover
2009 was an ironic year for the filming industry. It is one of the worst years for movies(in recent history), but it also piloted one of the most popular, and well-liked movie series': The Hangover triology. We'll still never know what tigers dream of.
2010: Toy Story 3
While we all hated Mr. Lotso, there is no denying this movie was a huge rebound from the second one, and had possibly the saddest movie ending in animated history. We all related to Andy in this movie.
2011: Cabin in the Woods
This might be the most bizarre, unique, and mind-blowing movie I've ever seen. The brilliant element in this movie is: The fact it's actually satirical of the entire Horror movie genre. It's so creative, and better than what people give it credit for.
And may the odds be ever in your favor!
2012: The Hunger Games
I guess it's impossible for me not to pick this movie, especially in another dull movie year such as 2012.
I just got rocked by the cast of "Annie."
2013: We're the Millers
It's a good thing the world didn't end in 2012, because we would have never seen one of the best comedies in recent history, and it restored my faith in 2010's comedies.
My name is Jeff!
2014: 22 Jump Street
The sequel is probably funnier than the first one. Cue the split action screen of Jonah Hill versus Channing Tatum.
2015: Goosebumps
2015 was a terrible year for movies. Just terrible(probably the worst on this list), but the nostalgic overload of this movie adaption from a television series of the same title is just...epic. I felt like a kid again. Thankfully, this spared 2015 of being a complete, an utter disaster in the filming industry.