My goal for this is to see whether this policy is logical or not regardless of your stance on... transgenderism? I have no idea what term to use here. I apologize. I will of course add my opinions in as well but that's not a part of deciding wether it's good or not. Recently Target made a new policy that pretty much makes all bathrooms gender neutral. They say that you can go into the bathroom of the gender you identify as. This was made to help transgender people.
First, is gender and sex the same? When someone is transgender or agrees with the idea, they are agreeing that gender and sex (anatomy) are completely separate. Some get extensive surgeries to change their sex, and some just change their gender. So I will be going by the assumption that they are separate. For ease I will at times use gender to refer to sex. Context should be enough for you to differentiate. If not ask and I will clarify.
Second, what is the goal of gender separation in bathrooms? Well, in general you don't want anyone to see certain parts regardless of their gender. But because it might be difficult to separate to an acceptable degree on an individual level the next best thing is by gender. We also separate the bathrooms to presumably stop sexual harassment. Contrary to popular belief this is not limited to female victims. A recent study says 90,000+ households were interviews and they found that 38% of incidents of rape and serial harrasment were male victims. I am assuming this number is a little low because of the aforementioned stigma.
The study isn't a perfect correlation but it serves it's purpose. Anyways, because most people are heterosexual they would be more likely to commit some kind of sexual harasment against the other gender and more likely to avoid their gender. So they are separated. This doesn't fix everything but it the logic is sound. So it seems the prevention of sexual harasment of various forms is the reason it's separated.
How do these two things mix to form our conclusion? Because we are separating gender and sex we can see that gender has no role in bathroom gender segregation. It's purely anatomy. So only identifying as a gender is not enough to go into the other bathroom. If one looks a lot like the gender being transitioned to and maybe getting surgery then it seems logical to go in the previously incorrect bathroom. We can partially further this argument with young children. It is OK if they go into the wrong bathroom for protection, help, and they see the difference in genders but they don't understand or care, and nobody else does either for the just mentioned reasons.
If gender and sex were inseparable then the conclusion does not change. It only solidifies it.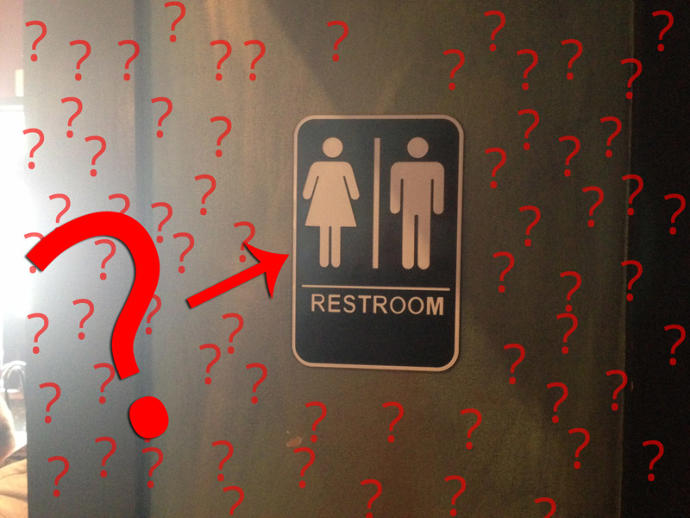 And just like that through pure logic we find that it is not enough to only identify as a gender to use a certain bathroom and so Target's policy should be amended.
Now for some other things I want to address. Some people are saying this is hurting women and children. Wow, that really hurts. It implies that men are the ones that are doing all of the attacking and not getting attacked. Especially the attacking part. I am not a heathen that goes around attacking women and my word, children. As I mentioned it hurts when people say stuff like that. Some of you might say that this isn't the message and maybe it is maybe it isn't but nonetheless that implication is hard to ignore. And did I mention it hurts?
I understand that transgender people want to transition in peace and fit in the best they can and receive acceptance. So please do not say I am making light of their situation. I am trying to create an understanding between everyone. To those of you who are transgender I wish you the best of luck overcoming any social issues you encounter because of your switch. 👍
I am hoping that nobody has a problem with these thoughts as I think they are quite logical but I can't explain everything perfectly and I certainly missed something, topped with the fact that people are emotional and think differently, I expect some backlash, misunderstandings and some blocks. Please do not assume I am thinking something, if you need clarification of my thoughts just ask and I will respond and hopefully demonstrate I mean no ill will to anyone.
Please check to see if I have any updates before posting anything.