Hey guys, welcome back. Today I have chosen to discuss a topic not many of us have heard of.

Asexuality is a sexual orientation that has existed for a vast period of time but many of us are ignorant about it. This can be due to many reasons and personally I only found out about it when I became friends with a user on here.


How would you define asexuality?
Unlike celibacy, asexuality is a sexual orientation. Asexuality is when a person/animal never experiences sexual attraction and never has the intrinsic desire to have partnered sex with others.

Many researchers challenge the pathologization of asexuality instead of identifying it as a sexual orientation. What are your views on this?
It sucks when people try to act like they know you better than you know yourself, but you should never let anyone else's thoughts prevent you from truly knowing yourself. As APA (American Psychological Association) and DSM (Diagnostic statistical manual of mental disorders) put it, if it doesn't cause distress, functional impairment in everyday life, and potential harm to oneself and others then it's not a mental disorder. It's not my fault if people can't understand the concept of asexuality, which means not sexually attracted to anyone. Sexual orientation is more of a private matter and it doesn't really matter why someone is asexual, homosexual, bisexual or whatever. Research shouldn't be invested into these topics because it doesn't really matter and it won't help any of us out. If a research or anyone else wants to think that asexuality is not a sexual orientation, that's not my problem. I take on the belief that I'm not responsible for what people believe. I will still label myself as asexual whether or not researchers think it's a pathology.
In her book (The Invisible Orientation: An Introduction to Asexuality) Decker states "that asexual people can become sexual later in life, and that doesn't mean they were not asexual before. Similarly, sexual people can become asexual". Do you agree with this? Do you think in future you might become sexual?
People can't voluntarily become sexual or asexual because it's not possible to voluntarily change your sexual orientation. However, sexuality can be fluid and change involuntarily for some people, but cases of those phases are rare. It's more common for young people, especially under 18, to go through sexuality phases. But if someone is over 20 years old, then their sexuality would most likely be set in stone. I strongly doubt I will become sexual in the future. I have met and seen so many people, including celebrities and other models, but none of them have sparked sexual or romantic interest. All I want is friendship.

Do you think people's lack of knowledge towards asexuality is due to lack of awareness or due to lack of asexual education?
It's mostly due to lack of asexual education and lack of advertising in the media. It's also due to the fact that we have no sexuality to express and people think that's boring. In addition to this asexuals are one of the minority sexual orientation groups and it's been recently recognised after all this history of oppression and marginalisation which still continues till today.

There is so much asexual erasure throughout society that makes our existence look invisible.
For those who may not be aware of asexuality but could be asexual what signs and symptoms would you say connote to their asexuality?
If they never experienced sexual attraction or if they ever tried to force themselves to feel if but never did. If they never actually desired to have sex with someone and they never felt sexual frustration/tension. If they would feel very content with the possibility of never having partnered sex with someone else.
An asexual mainly feels disinterest when it comes to sex and sexual content. I always felt disgust and disinterest at the thought of sex.

Are you aware of the asexual spectrum identities?
Yes, I am aware of asexual spectrum identities such as demisexual and grey area asexual. A demisexual experiences sexual attraction only after experiencing an emotion or connection/attraction to someone. A grey area asexual rarely experiences sexual attraction to others. I call it more the sexual spectrum than an asexual spectrum. Asexuality is when you never experience sexual attraction and that's all the way at the bottom of the sexual spectrum. The black in this triangle represents asexuality and the other colours (grey and white) represent sexuals.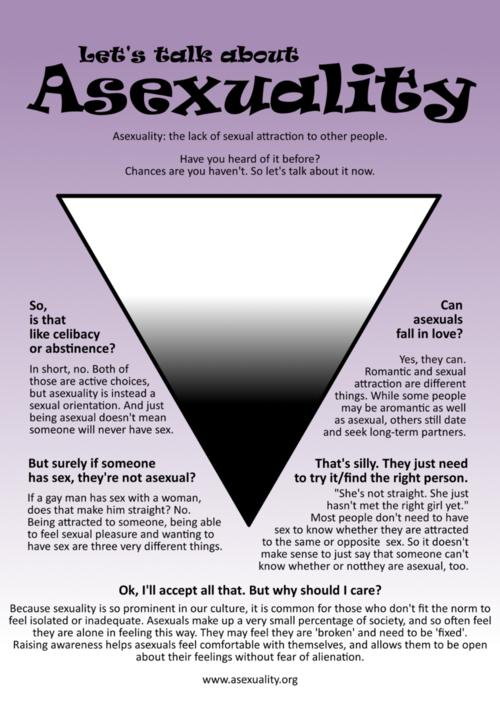 What is the most arduous part of being an asexual?
Being asexual becomes less arduous when you take on the belief that you're not responsible for what the world knows and believes, but society's decisions and actions can still affect you. The most arduous part is living in a sexualised world. A lot of arts and entertainment revolves around sex which can make it difficult for me to be entertained. Most songs and movies are filled with romance and sex. I find it hard to relate to songs about sex. I'm aromantic too so I find it hard to enjoy and relate to romantic songs' lyrics. I listen to most songs for their rhymes, rhythms, background music, beats and the tone of voice of the singer. But if the song and movie is too sexual and/or romantic, I can't enjoy it so I stop watching/listening to it. It's also annoying how people view me as a sexual being just because guys are stereotyped to be sexual beings. I don't like it when girls hit on me and expect me to be cool with it...I don't like it when other guys try to have locker room talk with me. It's like everyone assumes I'm straight and treats me like a straight guy when I'm not straight. But if I announce I'm asexual to random people I meet, they might accuse me of lying, being ill in some way, or that I'm secretly gay or something. Trust me, if I was ill in some way, I would know by now and I would fix it. I'm not ill. If I get ill, I'm still asexual. If I was straight, I wouldn't lie about being aromantic asexual in order to sound "cool". If I was gay, I would know by now and I would've happily lived gay. It also sucks that barely anyone is informed about what asexuality is and every time I announce to a new person that I'm asexual, it turns out to be a Q&A session. In real life, I avoid taking about my asexuality to those I'm not close to in order to avoid arguments and inappropriate comments and long Q&A sessions. I'd rather give Q&A sessions to people who I'm close to and people on GAG.
How would you describe the time before you came across asexuality? When you didn't have the answers you were seeking.
It was a time of confusion and uncertainty.
I subconsciously knew I was asexual since I was a child but I was in denial because I never heard of the term and I thought of myself as someone who isn't all grown up yet. I always thought to myself, "I will never get married and have children" because it disgusted me. I was 11 years old when I first heard about sex and I said "ew yuck gross!". At first, I thought I was someone sexual, who hasn't met the right girl yet. Then I thought I was gay "but I don't know it yet". I looked at all kinds of porn but all of them disguised me and I always felt disinterested to continue watching them. I tried to be a "normal boy" but it never worked because the "normal boy" wasn't completely representative of me because I knew something was off about me since I was a child. Even my parents sort of subconsciously knew I'm asexual because I wasn't interested in girls and I wasn't distracted by girls like my brothers were; they felt comfortable with sending me to a public school. I eventually avoided thinking about it and waited until I meet or see the right person who would magically spark romantic and sexual interest out of me, but all throughout high school, it never happened.
I was in senior year of high school and some guy on twitter wrote something along the lines of 'you're asexual because any gay guy would've hit that'. I had a strong feeling he was talking about me. After I saw that, I looked up asexual and learned the definition of asexuality but I didn't do any further research until the spring of the year after senior high school, because I thought I might be a late bloomer or something. I was nineteen when I did my complete research. I finally accepted the fact that I'm asexual and aromantic when I was nineteen years old. It was about time to give up that period of 'waiting' because the label felt right. I always subconsciously knew I was asexual and aromantic since I was a child so I thought to myself "why should I continue denying this?".

When I was accepting the label, I had dreams where I explained to people that I'm asexual.
Are asexual people bullied?
Asexual people can be bullied just like anyone else. Asexual people might be more prone to sexual harassment.
In terms of finding friendships do asexuals tend to favour men or women? Since with women they can occasionally develop feelings that aren't platonic.
I tend to favour men because, in the past, I have had encountered so many problems when I was friends with girls. They became friends with me because they were attracted to me and they hoped that they would soon have a "chance" with me. I was friends with taken girls but their boyfriends got jealous and one of them, was about to hurt me because his girlfriend was too flirty around me. Girls have fought over me even though it was obvious that I wasn't interested in any of them...This is why I'd rather keep them as acquaintances and internet friends. In real life, I'd rather be friends with straight guys, lesbians and aromantic asexuals because I don't have to worry about them liking me more than a friend. I'm very masculine, so I can't click with the average woman because she's too feminine and not masculine enough.
Thank you for reading this Take, I hope you enjoy this Take as much as I enjoyed writing it.