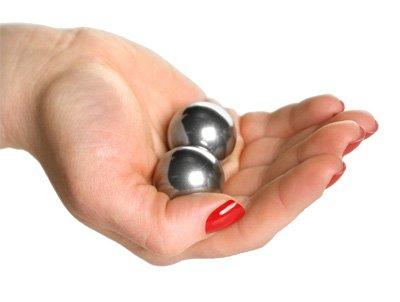 Today, I tried Ben Wa Balls for the first time and I am ready to share my experience.
What Are Ben Wa Balls?
By now, many of us have read Fifty Shades of Grey and are at least familiar with the concept of Ben Wa Balls, but for those of you who may not know, Ben Wa Balls are considered the oldest sex toy in existence. They are balls that you insert into the vagina with the goal of toning and strengthening the vaginal muscles while simultaneously providing pleasure. They come in a variety of shapes and sizes and are made from different materials. Most Ben Wa Balls are made steel, glass or silicone. Some vibrate, while others do not. You can also choose to get them with or without weights in them, to choose a pair that makes sounds, or to get a pair with or without a retrieval cord.
My New Ben Wa Balls
When I first starting researching these magical little balls, I read many accounts of women who had the unfortunate experience of losing a ball or having it stuck inside of them. Determined not to have this experience, I opted to get a pair of Ben Wa Balls containing a retrieval cord. While some may view this as a cop out, I believe that when it comes to my body and foreign objects, it is always better to be safe than sorry. I also wanted to get the most "bang for my buck" so I opted for a weighted pair believing that this may assist in toning my inner muscles a little more than those without weights. I also chose a silicone pair because the thought of glass in my most treasured area really freaks me out (What if it breaks?!), and the thought of steel makes me think of rust (though I have not researched whether or not this is the case). I received these bad boys yesterday and thought today would be the perfect day to try them out. I first cleaned them with a special cleaner I purchased from Adam & Eve (I am terrified of infection). The instructions say to use lubrication to insert them, but knowing that I produce an abundance of natural lube, I skipped this step and went straight to insertion. I wore them for about two hours while running errands and doing chores around the house.
What Did You Experience? Was It As Hot As the Depiction in Fifty Shades of Grey?
Sadly, the answer is a certain, "No!". Although the experience was not uncomfortable, I would not define it as all that pleasurable either. I was definitely aware that the balls were there, and I could feel my muscles contracting around them. I would assume this means that they are doing their job and there is some actual toning of the vaginal muscles that occurs while wearing them. Other than this, however, I really experienced no other sensation while wearing them. When removing them, I did feel slightly aroused. I also felt slightly proud of myself for being willing to try something new and for daring to wear them in public on my first try.
Will You Use Them Again?
Yes, I will definitely use them again. The idea of working out my most treasured area is alluring to me, especially since I work hard at maintaining my body otherwise.
Would You Recommend Them?
It depends on the goal associated with purchasing them. If the goal is to spice up your sex life or experience sexual pleasure, I would not recommend them, as I did not derive pleasure from wearing them. If your goal is to strengthen your vaginal and/or bladder muscles, I would recommend giving them a try.