I'm on the pill, and my boyfriend and I don't use condoms. When we have intercourse, he always stays inside me as he is having his orgasm.
Speaking as a woman, I always find this a very powerful, intimate experience. When we first began having sex, there was a huge increase in our closeness and intimacy level. Then, shortly afterward, when we quit using condoms, these feelings took another huge leap in intensity.
I'm not talking here about the purely physical sensations. Obviously these are much better without condoms, especially for him. Also the spontaneity is wonderful—we can move from making out to foreplay to intercourse without any interruption, just getting closer and closer until we merge together, which is incredibly romantic. But even more than that, I'm talking about our emotional closeness and involvement. I have thought about why and how this is, and (after getting my boyfriend's thoughts and input) I have come to several conclusions.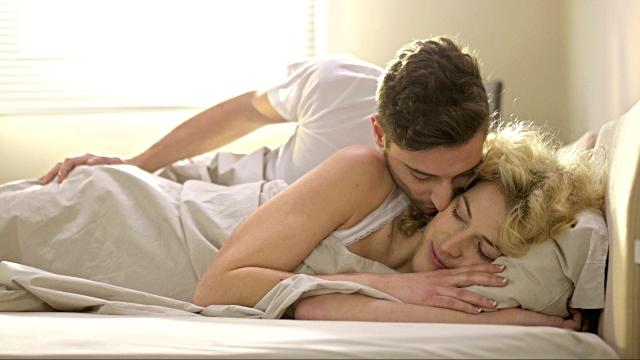 First is the matter of self-esteem. I have always had a very negative view of myself and my body image, and to know (and physically feel) my boyfriend's increasing passion and excitement as we make love is very affirming for me. I can feel his orgasm much better when he isn't wearing a condom (don't know why that should be because I can't actually feel his semen being ejaculated, but I do feel his penis pulsing when he cums), and when it happens I just feel this gush (if you'll pardon the expression) of intimacy and closeness. It makes me feel accepted, and it makes me feel beautiful, and it makes me feel sexy—three things that normally it has been very hard to feel about myself.
It's also a matter of trust. To know that he trusts me enough to ejaculate inside me—to trust that I'm taking my pills correctly and so looking out for him—makes me feel incredibly close to him. And it works both ways: I'm reminded that I trust him enough to let him do it—that if an accident happens he isn't going to cut and run. I think this is intensified by the fact that by this point in intercourse I've usually just had an orgasm myself, so I'm dealing with all the oxytocin, the bonding hormone that my orgasm released. Then, as he ejaculates in me at that moment and I think of our mutual trust and commitment, I just get these warm, gooey feelings towards him. (Again, I know these adjectives suggest semen, but they're really the best way I can describe my emotions). Sometimes—not very often but now and then. The feelings are so strong at that moment I'll actually cry a little bit (i.e., tears of happiness).
The point I'm trying to make is that condomless sex is about so much more than just better physical sensations, at least for my boyfriend and me. It brings us closer together at a deep emotional level. What I'm wondering is how many other women, and men for that matter, who have condomless sex with the man finishing inside experience something like this.