Disclaimer: Use at your own discretion. These are things submissive (traditional female sexuality) are turned on by but this may contradict a woman's political beliefs and/or her uncommon desire to be the aggresor/dominant one. Also, this is only for girls who already are attracted to you but you are feeling you're not being dominant enough to turn them on sexually.
Here are four manhandling techniques you've probably used when you were really really into a girl but can be duplicated on any girl in order to give her a feeling of being dominated by a strong, sexual man.
Pin her against the door/wall
When you think the moment is right push her up against the wall or the door as it's closing and then start making out/groping her passionatly as if the moment just overcame you. This can be cheesy if done too frequently with the same girl but is generally a good way of tapping into one of the few reasons girls abandon their "rule" of waiting--they secretly or not so secretly love feeling loved. If she's having a bad day or just got dumped by her bf/etc. they can often jump shallowly into sex with someone they don't even like. Hopefully for you this is a girl who actually does like you but regardless a good pin against the wall can be VERY sexy to a girl psychologically who likes the guy taking such control.
- Your sweetheart that you think only has sex to make her man happy
Rip her clothes off
Again, this is simply something to do if you're already having sex with a girl but just want to make it a little more sexy for her (sad i have to say this but apparently some guys have thought i meant any random girl on the street) If you've ever bought your girlfriend sexy underwear you know it's actually not generally too expensive. As such, ripping her panties or thong off with one quick, decisive pulll can be very sexy and dominant to a woman. It's best to do this with a woman who's already excited to be having a sex with you not a woman who's hearts not in it as she'll be more concerned with her clothes than your dick. Also, pay for whatever you ripped in the heat of the moment afterward--like I said it's not that expensive.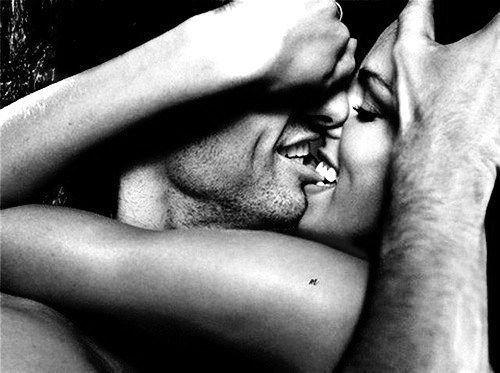 Spank her
Probably the one you thought I'd start out with, but let's break down why it's effective. First, it's psychologically a turn on to a lot of women. I've seen countless women who take me to task on everything in conversation enjoy being put over my knee and spanked and then be confused why they liked it so much. Yet again, if the girl is really not into it don't push it but if the girl is giving you the lead then consider trying it out. Another thing to consider: ass slapping is more psychologically a turn on than a physical turn on because of the loud sound it makes while at the same time not causing much physical pain because of all the fat cushioning. The sound makes her feel dominated but even if you leave a hand print it probably won't hurt her. Again, judge every situation on a case by case basis but every girl i've been with has enjoyed it immensly and never said it was too hard.
Pulling her hair
The key here is again dominance. By grabbing her hair at the root you can control the direction her head goes (usually want it up.) Many girls enjoy having that control taken away by a guy who's in strong dominant and in control of the situation. The problem of course is both us men as well as women are told that this is wrong on a political level so approach it with cautious however again when a girl is getting horny she's a different woman than when you're out to dinner at her favorite italian restaurant. But yeah always pay attention to if she's enjoying it and if she's not stop immediatly.
So, there we go. Nice guys especially should pay attention. Good sex is 95% psychological stimulation (tapping into what she personallly THINKS is hot) and 5% what actually feels good which is why studying a million books on how to eat a girl out doesn't really give her orgasms like being a strong dominant male in the bedroom. also don't feel like you have to be dominant outside of the bedroom if you don't want--a woman's sexuality is different from her regular personality. Oh, and this is obvious but if she's digging her nails into your back you're doing something extremely right.