Disclaimer: I am not trying to preach.
I do not advocate abstinence until marriage blindly for everyone; it is a personal choice that I had to make for myself, and anyone else choosing this must make that decision themselves as well. I will not say that any type or level of sexual activity between consenting adults is inherently wrong. This is just my explanation for how and why I, PERSONALLY, am waiting.
I am saving sex for marriage
.
Okay, so it seems stupid, right? Why would you buy a car without taking it for a test drive? Or buy a cow if you haven't tasted the milk? Or move into an apartment if you don't know that the electricity works? Or...
Well, I think I've made enough metaphors for one article. I may have made enough metaphors for the next couple of weeks. But the point remains.
Why would I decide to wait and give my husband my virginity on our wedding night, in a day and age when premarital sex is not only acceptable but expected?
"

If you snack all afternoon on Oreos, you're going to be full when dinnertime comes.

"
It's like this. And yes, here comes another metaphor, a long one, but bear with me. Say you're just sitting at your computer, answering questions on GirlsAskGuys.com, and suddenly you start to feel hungry. It's not much, just a twinge of hunger, and you start to think about those gorgeous, sexy Oreos in the pantry. Mmm. Oreos. (If you don't care for Oreos, replace them with something you find sexy and delicious). And you know you really want to eat those lovely little chocolate delights.
But you also know that you're going out to dinner at a nice restaurant tonight with your best friend, and
if you snack all afternoon on Oreos, you're going to be full when dinnertime comes
.
As the afternoon goes on, you keep thinking about how hungry you are, and those Oreos become more and more tempting. You think, okay, maybe I'll just have a snack. One or two cookies. That's not too bad, right? So you go into the pantry, break into the package, and take a few minutes to savor their chocolaty, creamy goodness. Once you think you're satisfied, you smile, think about how great those Oreos were, and you go back to your computer.
But you're not satisfied. Because
everyone knows that just having a tiny snack doesn't satisfy your hunger...it only makes it worse
. If you had just told yourself no, you can't have Oreos before dinner, then eventually you would forget that you were hungry. But instead, what's going to happen? You're going to go back, eat some more Oreos, maybe sample the Cheezits or Pocky or Wheat Thins, and before you know it its dinnertime, you're at the restaurant with your best friend, and you're full. You can't really enjoy your evening with your friend because the sight of the food on your plate makes you sick.
To me,
the sex drive is a lot like the hunger drive
. It starts off low, but the longer you dwell on it, the stronger it becomes. If you give in and have a little snack maybe have oral sex with your partner, or start watching more and more pornography, or start having sex, then it will only increase your desire, and you won't be satisfied.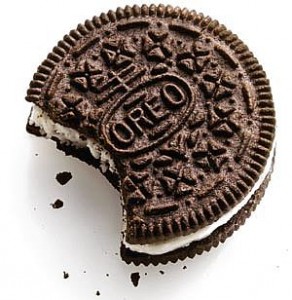 You will continue to need more to satisfy yourself, and when your best friend, your future spouse, comes along, you won't be able to completely enjoy being with them because you've been with so many people before. And it'll be a bit of a downer for them because you're picking at your food and thinking about what you've already eaten rather than just purely enjoying the food you have now. You're getting the hang of this metaphor by now, you can fill in what that means.
On the other hand,
if you simply choose not to think about your hunger, your sex drive, it will eventually fade into the background
. It's still there; you just don't notice it anymore. This is what I have done. I'm not asexual. I have sexual desires and attractions, to women as well as to men. I obsess with my friends over attractive celebrities or classmates or coworkers just like anyone else.
I've got my fantasies, and yes, I occasionally wake up with the need to take an ice cold shower. But
I just don't dwell excessively on my desires
, and they thus become manageable. They slip into the background, and I don't feel the need to act on them. When my best friend arrives to pick me up for our dinner together, I'll be plenty hungry. . .and I won't have spoiled my appetite beforehand!
Questions? Comments? Want to tell me why I'm a complete idiot for subjecting myself to this? Message me!