Before moving forward: I'm sure this will sound like a rant, hell, I'm starting to get heated as I type already but I'm going to be honest-to-God about my issue with ALL WOMEN today. And please spare me the "not all girls are the same" or the "you sound bitter"-type nonsense because I don't care. This might go all over your head but whoever gets it, GETS it. And I'll finally be able to get this off my chest.
Why do women feel the need to put absolutely EVERYTHING on social media – whether it is Instagram, Facebook or Twitter? Are they really that insecure they need to let everyone else know what they are doing and seek validation for it? Shouldn't validation come from your family, your partner and yourself (most of all) -exclusively?
I don't get it, and when I tell women I'm not on Facebook I get looks like I'm freakin' leper or something. I've even got a "I don't trust people who aren't on Facebook" to which I said I like to tell people I know what I am up to face to face and actually speak to people and get a dumbfounded look back.
You are probably thinking this is a more of people-in-general problem than just a woman problem. Probably because social media and texting have ruined people's communication skills. Yes, I agree.
But consider this: Remember when little girls had diaries and they would freak out whenever a boy just TOUCHED THE COVER?

We've come a long way.
How's it possible just 30+ years ago, women would be so hell-bent on keeping their thoughts so private, and they genuinely felt VIOLATED when someone would read their thoughts….but NOW they spray every stupid fucking thought they have onto every medium imaginable – from the consistency of the shit they took this morning, to "checking in" when they go to a restaurant. Can you imagine? Going to a restaurant and feeling some need to tell your 1000+ electronic "friends" where you're eating right now… and then you buy a $6 coffee with a maxed-out credit card and upload a photo of the cup to Instagram and Facebook.
…. and then you check in AGAIN to see who LIKED it??
Gentlemen, welcome to hell.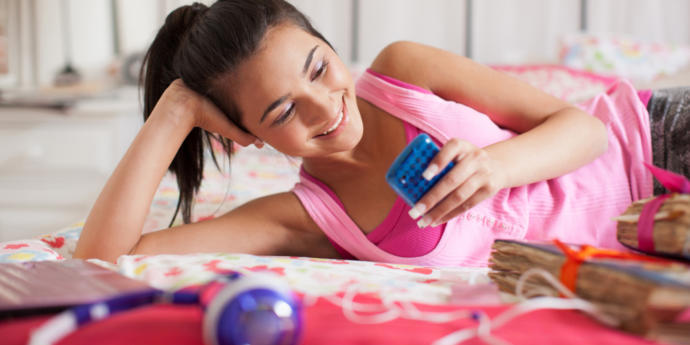 Now, on the flip side, it's the worst thing women could have done for themselves, but it's also the reason men are waking up at an epic rate. We we see the behavior and evidence in PRINT. It's there forever. It's an excellent insight into the vapid female mind. Where they once had the world convinced women are some "deep mystery" and their hearts are "an ocean of secrets"…. they are no mystery. They're an algorithm.
They are not "deep". They are utterly shallow.
I wish I could recall which female-only forum I stumbled on, but it was eye-opening – to say the least. There were THOUSANDS of posts, and almost ALL of them were only one sentence or two at most. Endless threads – one after the other: "Bored. Let's start a new thread. What are you looking at right now?"
The replies were mostly one-word answers:
• "My cat"
• "My ceiling"
• "My computer lol" (lol? you didn't even say anything funny!)
• "My arm hairs"
I shit you not, it was page after page after page of empty-headed bullshit, with no speculation, no thought, no depth or point of ANY kind. HUNDREDS of pages I clicked on at random and it was all the same nonsense.
THAT was finally the explanation for why grown women on dating sites have NOTHING to say about themselves of any value on their dating profiles. Another phenomenon and revelation to their empty-headedness:
"I love to laugh and travel. I feel just as comfortable in a little black dress as I do in jeans. I like to go out, but I also like to curl up at home in front of a movie. I breathe air. I eat food, my favorite show is Grey's Anatomy, and my favorite book is The Secret. Must love dogs. My kids are the most important thing in my life. My friends would say I am ____(list of adjectives everyone else uses) ____. Oh! And PS, I'm a foodie."
… and she thinks she has said something about herself.
I'm telling you gents, spreading their non-thinking shit all over social media is a positive. But not for them. I don't need to date that uninteresting twat for 2 seconds. I don't care how cute she is, two sentences in and I'm already breaking up with her, selling everything on e-bay and I'll only leave her with the mini-van. Just speed flip through Match.com for a couple of hours and you will not find a single woman who can tell you how she will add value to your life. I know this because I worked for a "online dating" company. That's a front row seat to understanding women are no "mystery".
She will tell you what you're supposed to do for her, though. She will even give you 10 reasons why you should NOT message her: "Don't message me unless………". Well, fuck you! You still haven't given a single reason to message you at all, and you're telling me NOT to? Okay. If you say so! NEXT!
Facebook/Instagram = self aggrandizement on an epic scale. The ego is so bloated it is in danger of exploding . Narcissism. I'm perfectly happy being an anonymous username on the internet. MySpace and Facebook and Instagram were popularized by women, mainly to promote their pussy to the world and thereby collect the highest bidders.
You know the expression "enjoy the decline"? Every chick who uploads selfie of her tits and ass, hasn't realize that facial recognition means she can never be the next CEO of Google. Rather than deterring them.
Don't just enjoy the decline. Accelerate it.