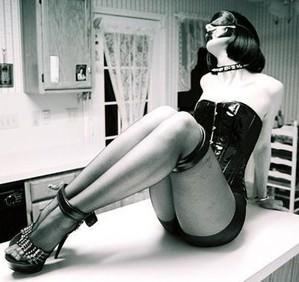 1) Tie her up FOR REAL, so that she couldn't move if she tried.
Bondage is about control and making your sub feel out of control. If they can wiggle their hands free from your rope/hand cuffs, then they are still somewhat in control even if they don't try to resist. So make sure it's tight ;)
2) Tell her she is yours and she is going to do whatever you want to do to her.
Nothing is more sexy than being told you are going to be pleasured, whether you like it or not. Of course she wants you to pleasure her, but she wants to know that she can't stop it if she tried.
3) Nipple play
For the majority of women, nipple stimulation is key to climaxing. Make sure not to go too fast though, because too much stimulation at once can be numbing. Tease all around the breast before touching her nipple. Then you can get more rough if she seems to like it. Consistency is key.
4) Start to kiss all over her body, but stay away from her vag
Self explanitory.
5) Back to nipple play, rough kisses around her neck and face
Forceful kisses, a tug of hair, and lick inside the ear can all lead to a more intense orgasm. Don't be afraid to get frisky and whisper things you're going to do to her in her ear while you're at it.
6) Gag her
First of all, before you do anything, you warn her ahead of time that you're going to gag her. She must be ok with this because it can feel pretty intense. If you're going to go ahead and use a gag, make sure you establish a safety sign she can still use if she wants you to stop something while she cannot speak. Basically, the reason a gag is useful in helping her climax is due to the fact that she cannot tell you what she wants anymore. She will be really turned on at this point, but she won't be able to say"I want you to do blank to me" or ask you to finish her. You will be in complete control, just remember to pay attention and look out incase she is making the sign for you to stop. (Usually a head shake works, a particularly loud scream, or blinking)
7) Kiss down to her thighs, slowly move towards the vagina
Self explanitory, but take your time.
8) Use your tongue
Flick your tongue over and around her clit. Use it to swirl around the opening of her vagina, and eventually stick inside too.
9) Finger her with one, then two fingers
Using your fingers or a toy before having sex allows her to imagine how great it will feel to have all of you inside of her. This just builds up her tension even more.
10) Tell her you're going to make her scream, and no one will hear her.
Say this to her, or something similar once you are about to go inside her. Trust me, she will melt when she hears you say you are in control of her orgasm, and there is absolutely nothing she can do to stop you from making her explode.