I am a member of the LGBT. My girlfriend doesn't know that. I am also a bigot. My girlfriend also does't know that, either.
I am a thirtysomething white man living in America. Anyone that would look at me on the surface would see that I have a nice job that pays fairly well, I own my own home with all the bills paid off, I have a sweet and beautiful girlfriend who I love very much and who loves me back, I have a loving and supportive family who have always supported me in good times and bad, and I have an active and outgoing social life with plenty of friends. However, what they wouldn't see is the fact that I have two dark secrets: I am addicted to transsexuals; and I am a White Nationalist.
Sometimes, when I am more acutely self-aware than I am at other times, I wonder how I could have gotten to the point in life where I am today, and I wonder what strange steps I took to get here. Anyone that knows the public me would see the face of happy normalcy: I had a happy childhood in the suburbs in the 80s and 90s, the product of two very progressive leftwing parents. Yes, my parents are lefty progressives; they would be shocked beyond belief to discover I subscribe to the tenants of White Nationalism. I also have the cutest, sexiest, sweetest and most loving girlfriend in the world, a blonde ex-cheerleader who now has a job in the education industry; let's call her Cindy. I'm crazy about Cindy, Cindy tells me she's crazy about me, and someday - someday very soon - I plan on proposing to her. I love her dearly, and I want to spend the rest of my life with her. Everything we have together would be perfect, if not for the fact that I cheated on her in an emotional affair with a transsexual that I met online.
Let's tackle the White Nationalism thing first. Before I get into this, let me state for the record that I do not feel that I hate other races, and for the most part i don't even consider myself a racist; I just feel an extra amount of loyalty to my race, the White race, and I feel there is a need to defend it, because in these modern times it certainly is under attack. Wherever young folks gather online, anywhere from Twitter to tumblr, it is now considered chic to blast the White race and the human beings that belong to it. Take the following example of white self-loathing, which was taken from Twitter: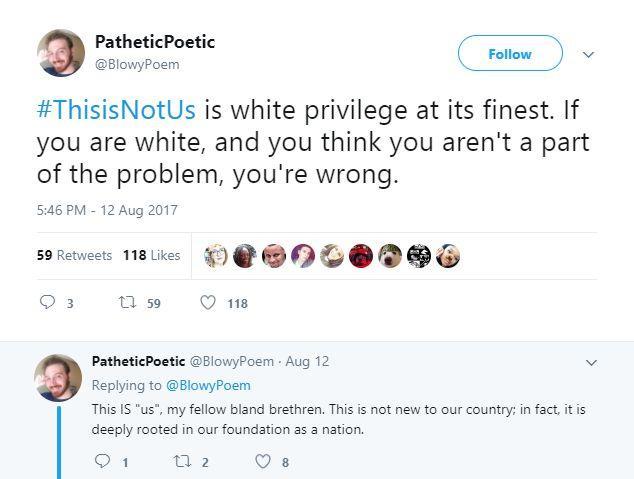 I see crap like this on Twitter quite often. Self-hating whites calling their own kind "bland" and feeling the desperate need to speak out about the evils of "white privilege". The thing about it is that White people aren't even the most privileged group in America; jews are. Yet you don't see jews on Twitter calling out their people as being over-privileged, and taking the role of activists while demanding that their fellow jews take some sort of proactive measures to help the less privileged White goyim in order to counterbalance their jewish privilege. And why is that? I'll tell you why: because jews control academia, the mainstream news media, Hollywood, and most leftwing political groups in America, and all of those forces constantly bombard White people with messages that they are privileged oppressors; and they don't tell that to their fellow jews. Instead, those forces reassure jews, hold their hands, and tell them that they are noble and innocent victims, even though jews are literally the true face of America's 1%. As a result, impressionable young White people grow up to be Social Justice Warriors that believe their own kind are evil, and that the only way they can get rid of their guilt is to help and assist blacks and illegal immigrants at the expense of other White people.
https://www.youtube.com/watch?v=URs_gh-QNN8
Meanwhile, jews control Wall Street, the huge majority of America's entertainment industry (including Hollywood/the movie industry/the television industry/the music industry), Madison Avenue and the rest of America's advertising industry, America's entire banking industry, the courts (through all the jewish lawyers), and almost every politician in Washington DC is in the back pocket of Israel or the seemingly never-ending number of jewish special interest groups that infect Washington like a plague; yet young jewish kids feel no guilt for their jewish privilege whatsoever, and instead they feel a moral superiority brought on by the fact that academia and the news media validate jews, as an ethnicity, and tell them that they are innocent victims that have never harmed or oppressed anyone, and anyone who feels otherwise is an antisemite that is jealous of them. Academia and the mainstream media simply never condemn jewish privilege; instead, they act to reaffirm and uplift young jews with stories of the Holocaust and messages that jews are a strong people that have survived persecution. (What they don't tell them is that, in history, jews have more often been the persecutors than the victims of persecution: there aren't any college classes that teach White ethnic identity and revolve around the Holodomor, which is the anti-White genocide that the jewish Bolsheviks in control of the USSR committed against the White people of the Ukraine.)
I went to college in the late 90s and early 00s. Back then the whole SJW crap wasn't as hazardous and poisonous as it is now, but it was stil around. It was while at college, when I was first exposed to social justice warriors upfront, and their ugly anti-White, anti-male, anti-American hatred, that I became, politically, what I am today. The world wide web, which had just recently been born at that time, was fundamental in helping me find literature and websites that said what I wanted to say, just like it is today for many millenials who are members of the Alt-Right. You see, the rise of the Alt-Right is a direct result of the dominance of the extreme left in mainstream culture, a culture that is tightly controlled and jealously guarded by jews. The Alt-Right is just a mirror being held up to the other racist groups on the liberal side. The only difference is that when it's on the left it's socially acceptable. That is the true reason the Alt-Right is rising in this country; White people like myself are tired of hearing that racism against us is either impossible, or something we deserve because of what our ancestors did, or something that is noble and just because it's "punching up" (but somehow punching jews, a group that holds worlds more privilege than White people, does not count as "punching up"). We White people are tired of being treated like second-class citizens in the country our ancestors built, and we are tired of being told all white people are evil by jewish college professors teaching that being white is a plague.
Becoming a member of the far right was incredibly freeding for me, because it allowed me to deal with racist blacks, latinos and jews that hated me just for being born White, and thinking they were morally superior to me because they were minorities, in a way other than feeling White guilt. There was one thing about it, though: perhaps it was because this right wing membership was newly discovered and not something I was raised with, but my "evil rightwing hatred" did not extend to the LGBT. I never had anything against the queer community, and always tried to treat them the way I would want to be treated. I had some gay male and bi female friends in college, as "in the closet" concerning my rightwing viewpoints as I was, but I must say I never felt the need to become one of them, and never had a gay experience in college.
Fast foward several years. It's 2007. I had graduated from high school 10 years earlier, and someone in my old circle of high school friends messages me on Facebook saying he wants to arrange a little unofficial get together with everyone else in that year's graduating class; a ten year high school reunion party. I message him saying I'm open to the idea, and so do many other alumni, and before I knew it a party had been arranged. A location and date set for a couple months in the future, a couple months pass, and I go to the park near my old hometown where the party is scheduled. The party has just started when I get there, someone hands me a beer, and i enjoy seeing my old high school friends (what few are so far there, anyhow), and then *she* walks up to us. They were a couple, actually; on the right is this wimpy, gay-looking guy, but on the left is a *godddess*. Tall, shapely, and absolutely gorgeous. She has lovely breasts, curvy hips, and the face of a Victoria's Secret model. This woman could very well be a supermodel of some kind. From my seat at one of the picnic tables, my eyes follow her every move as she walks over toward us. Some women go over to greet her, then she comes up to the main group of us and announces herself... and it's Brian. Brian, the only gay guy at the school. He became a *she*. Her name is Carla now. The wimpy guy is her life partner. I immediately stop looking, worried that someone might have caught me staring so hard. For the rest of the day I never look directly at her, but don't have the willpower not to steal glances out of the corner of my eye at her the entire time i'm there. Damnit, how could the class gay guy become something that... *hot*. It's then I finally realize I'm attracted to Brian/Carla. A sick feeling comes to my stomach and I feel so ashamed. I try my best to enjoy the rest of the day, knowing I might not see these former classmates for another 10 years, and maybe some never again. The day winds on and finally it gets dark, and it's time to go home. I'm terrified of someone getting the wrong idea, but I have one chance and might never have another, so as we're all standing, giving out handshakes and hugs, I decide to go up to Carla and offer a handshake. I get up beside her, look straight into her gorgeous face, and say "happy 10th Carla, have a good evening". Carla looks at me, smiles, and we shake hands. At that moment I wanted so much to tell her how beautiful she was, to say something that would make her hug me, to say anything that would allow me to get in closer and smell Carla's perfume... but I didn't dare to do so for someone might get the wrong idea...or the *right* idea. Then, as soon as it happens, Carla's hand slips out of the handshake, Carla slips away, and she and her partner get into their car. I act as nonchalant as possible, shake a few more hands and hug a few more women, and I get in my car for a lonely two hour ride home. During the drive, the sick and ashamed feeling comes back. What did I do? Was I really attracted to a *man*? As soon as I get home, I change clothes, I sit down in front of the computer, and I decide to look up some transsexual porn. I had never looked at any, or any other type of porn other than straight and lesbian, and I didn't even know how to properly search, what keywords to type in, or even what I was really looking for. I just knew that I wanted to see a chick with a dick. I find some results, nothing impressive at first, but then I find a link to a site with pics of a transsexual from Brazil named Victoria, who looked a lot like Katie Holmes. She has a beautiful face, nice breasts, and a dick. I masturbate to a transsexual for the first time in my life, and afterwards my head was spinning and I was horrified. I felt like throwing up. I immediately delete my history from my browser, even though I live alone and I'm single, and I download and install a computer program that is supposed to wipe deleted files for good. I can't let anyone know... not even the government. I forget the name of the website I went to, I forget that I ever did any of this, and I tell myself I'm going to stay away from any shit like that for good.
Two years, one relationship with a cisgendered woman that has come and gone, a couple cisgender extended friends with benefits hookups and a handful of cisgender one night stands later, and I get the urge to look again. I'm opposed to the idea, but my horny side is turned on and goes looking against my wishes. I can't find the same site, but I do find another site featuring a new pornstar that looks just as good, and I masturbate. I feel incredibly guilty and incredibly dirty afterwards, and swear off of it forever. I make it one month before I'm back on the internet looking for more transsexual porn, and find it.
Fast forward to 2012. By that time I had discovered my two transsexual dream girls, Sarina Valentina and Bailey Jay. I have finally come to terms with the fact that I like trans porn. I know I'm not gay, since I'm into women, and I don't even consider myself bi, either; after all, I'm not attracted to men, only cisgendered women and transsexual women; meaning, they have to look like women for me to be attracted to them. I decide not to analyze it too much, and simply think of myself as "an admirer of the trans community". By this time I've had about 12 cisgendered female girlfriends since I had turned 16, 8 of which had turned into LTRs, and I've run into a dry spell romantically... as far as everyone else knows, anyway; what they don't know is that I had spent the last two years chatting up transsexuals I met online, and having everything from sexting sessions to romantic relationships, but as of yet no actual hookups in real life. During this time I meet Cindy through a mutual friend who was worried about me going two years without any romantic or physical contact from a woman, says he's going to fix me up with an old female friend of his my age, and won't take no for an answer. I go on a blind date with this woman, fully expecting to have an awful time and go straight home to my phone and PC... but the date goes great. She's beautiful, lovely personality, she has breathtaking beauty but she's as cute as a button at the same time, and we really hit it off. After dinner and a movie we end up strolling around the streets of the town talking, then we get in my car and spend three hours talking in a Wendy's parking lot. I see her home, kiss her (and it's a great kiss), I drive home, and as horny as I am from that encounter, I don't look at transsexual porn that night. I masturbate to some video of a blonde woman masturbating, and I go to bed. Two days later I text her just to see what she's into, we text for hours, and I set up another date for the upcoming weekend. The next day I decide to talk to her on the phone, since I'm older and can remember a time without cellphones, and we talk for hours. We talk or text for hours every day up until the weekend comes, we have our date and it goes great, and that night we have sex for the first time. I call her the next day, we talk for hours again, and Cindy says she wants to be official; I agree.
Fast foward to early 2017. I'm still with Cindy, we're both very much in love, and I couldn't be happier. I haven't looked in transsexual porn, or chatted/texted a transsexual, in years. Then, for some reason I still can't explain, one day I go after them again. Do you know how sometimes it can feel like you're not in control of your body, and you're a spectator watching events happen by your own hands, and you have no choice but to simply watch as "you" perform an action the real you would never do? I go to an alt sex/fetish dating site, and I start messaging a transsexual who calls herself Kayla. Kayla is extremely passable, goodlooking but nowhere near as goodlooking as Cindy, we take it to text, we start sexting, and after we come we text in a friendly manner for hours. I text her the next day, and we sext again. The next day we text for a bit, and decide to get on snapchat. We do, and spend the next few hours doing that. The next day Kayla mentions she can do Skype, so we do it. We Skype each other every day for the next week each for hours a day, and then one Saturday after I've put Cindy to bed over the phone Kayla and I Skype, and after we masturbate Kayla tells me she loves me. I'm floored. I'm sitting there and my face is going numb, I can't talk, but finally I say "I love you too". Since I have been with Cindy I have never had physical sex with another woman, either a cisgender woman or a transgender woman; I have never had physical sex with a transsexual woman in my life, period; but I have just had an emotional affair right where I'm sitting. I start to feel physically ill in a way that I haven't since I first started masturbating to transsexual porn, and I tell Kayla I have to go and shut the Skype off. I go to bed and lay awake for a couple hours before falling asleep. When I wake up it's after 10:00 AM; I instantly get up, grab my phone, and I text Kayla telling her that I'm sorry but I can't see her anymore, I text Cindy wishing her good morning and tell her I love her, and I feel so guilty. She texts me back sometime later and we exchange lovey dovey talk and tell each other "I love you". For an ever so brief moment it feels so good to read that text, then i feel so bad again. Then my routine gets back to normal.
It has been 6 months since then. My relationship with Cindy is wonderful, we have talked about moving in with each other, and I am thinking about buying a ring and proposing. I have only looked at transsexual porn 3 times since then, and only masturbated to it once. Still, I still feel guilty about the emotional affair, and some days I'm worried Kayla might try to contact me again and this time she'll contact Cindy and tell her everything. To this day I still don't know why I cheated on Cindy, she gives me everything I need and I can't live without her. I don't ever want to cheat on Cindy ever again, she's my *real* dream girl. But that being said, I'm spinning in a cycle and I've been here before, and I know it's just a matter of time before I get the urge to look at the porn again, or even have a real-life sexual encounter with one of them. How will I hide it on my phone and PC if Cindy and I move in together? How will I keep it a secret? Hell, how will I keep my advocacy of White people and the White race a secret? I don't know the answers to any of those questions, but I love Cindy so much I'm willing to risk being caught in order to live with her. I think. Until Cindy catches me with either dark secret, I'll stay in the closet.