Not all guys are ready and willing all the time. For those of you who fall into this category, you might be surprised at what this says to us. If I want some boo-tay and all you can give me is "Maybe another day", you might as well have said, "I'm just not that into you." If that is really the case then spit the words out now and spare me the embarrassment of trying any harder! If it is not, please read on.
How can it be that a girl you once couldn't get enough of suddenly feels as appealing to you as a night without TV? Don't try chalking it up to my insecurities. That's a cop out and we both know it. By withholding anything (either emotionally or physically) from me, you've already proved this relationship is unstable and that I am, in fact, undesirable to you.
The minute you've turned off the heat, I'll start thinking you're into someone else - literally! What am I supposed to believe? I haven't done anything differently. I didn't get my hair cut or stop shaving my legs. I haven't even farted in front of you, yet. Oops, I did do that one time. Was that it? Is that why you don't want me anymore?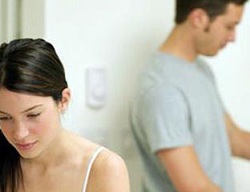 Girls believe desirability and sexual satisfaction top all guys' must have lists. You have to admit that not so long ago those were probably the only two things you noticed about me. You were constantly checking me out from different angles, imagining what it would be like to attack me from all sides.
Then it all stopped. This made me nervous which, in turn, freaked you out! "What's the big deal?", you ask. "It's just sex. I'm tired. I work a lot. My boss' been ripping me a new one and now this! By the time I get home, all I want to do is sleep. Don't you realize that?" No. Problem is, like most guys, you probably keep those details to yourself. We girls are left wondering what went wrong.
Images of saline infused porn stars and pouty lipped models invade our mental space. As long as we think you're mentally with them, nothing else matters. If they're alive and well in your head, they might as well be living in your bed.
So if you're having a bad day, say so. If you're tired, say so. How much can, "Honey, you look absolutely hot but I'm tired and I've got work on my mind" really hurt? Opening up just might make you relax long enough to forget about your day altogether. If nothing else, it'll reassure us that you're mind is just somewhere else and we will drop the topic without sulking.