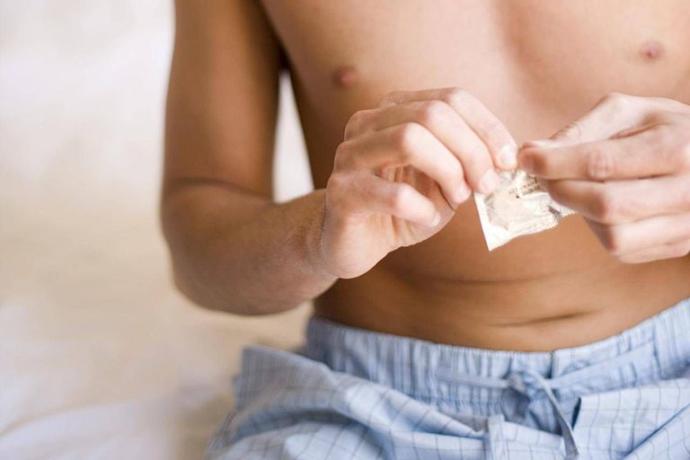 So there's many 'reasons' men don't want to use condoms, including:
-They don't feel as nice/it feels better without one
-My dick is too big
-I'm clean, why should we?
-I don't want to 'waste' time putting one on.
etcetera. While the second one makes no sense (look at the condom challenge, your dick WILL fit) and the last two are just unsafe, the first one is an opinion. If you and your partner share that opinion, fine, you both agree.
However, most often times both partners do NOT agree over the use of condoms. Condoms are one of the safest ways of anti-conception. They have a 98% rate of working when used right.
These are common mistakes when using a condom: 14 Common Condom Errors
There are also occasions for using a condom. If it's a one night stand I'd say always use a condom, because, duh? You don't know the person too well and they might carry an std or you'll get pregnant from a stranger. This one's for straight people only: if your girl isn't using birth control, you should use a condom.
"Well, she should just use birth control, why am I the only one expected to stop pregnancies?" I hear you think. I agree women have to carry part of the burden, but! Have you considered how the pill works, for example? Well, first of all, birth control is a hell of a lot harder than just ripping a condom package open. You have to take the pill, each day, at the same time. No matter where you are, when you skip one, you're unprotected. I'd say try doing that with a placebo, guys. Like buzzfeed has done with tictacs. Furthermore, the pill has hormones in it and does not just prevent pregnancy. You're pumping hormones into your body, which means your whole cycle changes and more. Girls can get fatter or thinner, more acne or less acne, a worse period or a better period, a longer period or a shorter one. These outcomes differ for everyone, so you never know what you're going to get.
If you don't want to take on the responsibility that comes with being a guy and thus having sperm, why are you even having sex? I totally agree women should own condoms as well, and try out if birth control other than the condom works for her, but that should NEVER be because a man has told her he wants her to. Not getting an std or pregnant has to come from both ways, but not using it is just stupid, unless you want to get pregnant.
The only two birth controls I like so far are the condom and the IUD. Both make sure you're protected and keep your natural business okay. Those are the two i'd recommend to all. Be responsible before getting intimate, please. There's already too many humans and sick people on this planet. Peace.