There are so many things about the female body that the media, our friends, our significant others, our family will tell us aren't normal, but there is still to this day tons of misinformation about what's normal and what's not.
1. I DO NOT HAVE THIGH GAP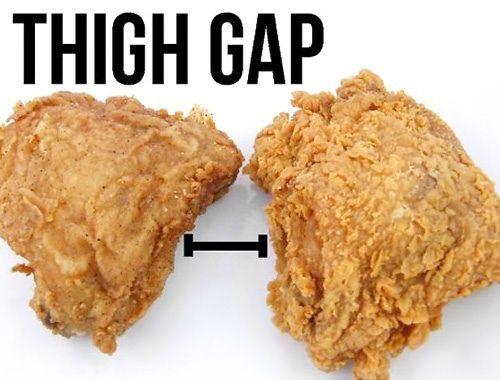 This one was quite a recent insane phenomenon where women were informed that for some reason, thigh gap is something they should try to obtain which is of course LITERALLY impossible for some women based on their physiology. An inner thigh gap is often seen on very lean individuals, but it also has something to do with the width of your hips compared to the length of your femoral head. In the case of the latter, there's not a whole lot that you can do to change how far apart your thighs are from one another because you were born with your bone structure and at however old you are now, it is impossible to change that and thus impossible for you to ever have thigh gap, but guess what, you're perfectly normal!
2. I HAVE WEIRD SHAPED BOOBS
Those special movies you watch would have you believing that there are only maybe one or two types of boob shapes you can have, but there are generally believed to be 7 types with a few variants on the types. Most women have asymmetrical boobs, where one is larger than the other. Your nipples can be centered, off to the sides or down below. A lot of women have a large triangle shaped valley between the breasts (which is why a lot of bras come with the same inverted V shape worked into them to support your girls). Pregancy, hormones, and puberty obviously can all affect the size and shape of your boobs as can weight gain and weight loss, but love your boobs, whichever type you have, because guess what, you're perfectly normal!
3. I HAVE HAIR ON MY NIPPLES, KNUCKLES, TOES, OR ABOVE THE LIP
Blame it on those pesky hormones. Sprouting a couple of nipple hairs is nothing to be concerned about. Some 30% of women have a few stray hairs on their breasts, and everyone, men and women alike, have hair follicles there. Puberty and normal hormonal chances can cause them to pop up but if they bother you, *gently* remove them. As for everywhere else, women actually have measurable amounts of androgens in their blood. The levels are much lower than they are in a man's blood, but they are present. And the cells in the hair follicles on a woman's face also make hairs in response to androgens. When a woman has unusually high levels of androgens in the blood, she can start to grow hair in places that most women don't. Such hair growth may also be caused by cells in the hair follicles that are more easily stimulated by androgens to make hairs, even when androgen levels are normal. In some cases, the extra androgen comes from medications. Some birth control pills as well as certain steroids contain androgens, or have effects similar to androgens. Other drugs indirectly cause the body to make extra androgen hormones; these include some medicines to treat schizophrenia, seizures, migraine headaches, bipolar disorder and high blood pressure. So if you see a few extra hairs in places that you'd rather not, just remember at the end of the day, whether you pluck them, shave them, or leave them be, you are perfectly normal!
4. I HAVE STRETCH MARKS
You may workout 7 days a week, eat a perfect Paleo diet, and still, yes, still have stretch marks on your otherwise very toned body. You are not alone. Some 90% of pregnant women will get some stretch marks, 70% of women who have not been pregnant will get stretch marks somewhere, and yes, even men, with some 40% reporting they have stretch marks. They happen, what can I tell you. They can be red, black, bluish, and white. Some women are genetically pre-disposed to them, there is of course pregnancy, there is weight loss or gain, some genetic disorders, muscle gain, etc. that can all give you stretch marks. There are some treatments. Some women respond well to these, many do not, but of course, at the end of the day, no matter how many you get or don't get, you are perfectly normal.
5. MY VAGINA SCENT
It is normal and natural for your vagina to have a scent that doesn't exactly remind you of your daily perfume. It's your normal body odor caused by your badass self sufficient lady part that can self clean, help kill off unwanted degenerate sperm, and help you reach the height of pleasure....but yeah, yeah, what is it supposed to smell like? When conditions are healthy, the bacteria that live in the vagina are a girl's best friends. These microbes are lactobacilli, the same bacteria found in yogurt. In fact, a "normal" vagina will have a "slightly sweet, slightly pungent," odor like the lactic acid smell of yogurt. There are a few very normal vaginal smells. One is metallic, which is usually associated with your period or contact with semen. Both can change the pH of the usually-acidic vagina into something more basic and thus, differently scented. The second is a musky odor typically having to do with your workout, wearing tight fitting clothes, or fiber underwear. Your vagina can also have a chlorine bleachy smell. It tends to do with the lubricants you've used during sex and whether or not you've used a condom. Of course if you smell a fishy, very yeasty, or other strong foul smell down there and or have other symptoms, see your Gyno asap, but otherwise, guess what, you're perfect normal.
5. I HAVE GAS
Let's be honest ladies. We have built up quite the myth and legend around our supposed lack of gas or farting, but just between us gals, we know through your pained expressions that you've held that sucker in for the last 3 hours during that "impromptu" work meeting and now you've made a beeline down to your office, slammed the door, checked to see if anyone was around through the slats of your window, and then and only then between you and your God, do you let gas escape. Okay, you might not be that dramatic, but for some reason women are told that we don't or shouldn't pass gas which is of course, really biologically impossible. The average person, man or woman, farts 10-15 times a day. When you wake up you tend to be the most gaseous. Odor free farts do exist, and are the result of you simply swallowing air and it needing to be released. Men do tend to fart more because they tend to eat faster and frankly care a whole lot less about whether it happens or not. And since we are on the fart train, let's just roll on to poops. Your poop will never probably smell like a field of flowers, but you can in fact make your poop smell, well, less poopy. Those who eat diets rich in fatty greasy meat based food tend to have much fouler poop vs. those who's diets contain more lean meats, or vegetarian diets. It's true, that meat rots in your gut and releases with it some pretty foul odors. If you are a heavy meat/grease eater, change up your diet for the week to a more vegetable based, grease free, lean meat one and see if you don't smell the difference, but in the mean time, just know that either way, you're still perfectly normal.