The best way to describe Tokyo shock cinema is to call it Japan's version of Troma (Which I love also) movies, I guess.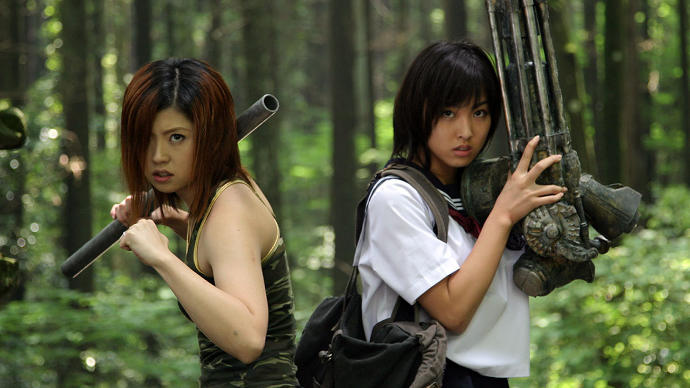 Usually low-budget,weird, super gory, violent, over the top gross out films with some very interesting storylines!
These movies are hard to explain. And usually, have to be seen to be believed.
1. Ichi the Killer (2001)
A sadomasochistic yakuza enforcer named Kakihara goes crazy in the search for his boss that went missing, Including torturing the living hell out of anyone he suspects and some very severe self-mutilation along the way.
He crosses paths with Ichi, A sexually repressed psychotic who has been turned into a killing machine by a cop(And, Who actually killed the yakuza boss in the first place).
Directed by the wonderful Takashi Miike, And based on a manga of the same name.
2. The Machine Girl (2008)
The very first Tokyo shock movie I seen, And the one that got me hooked.
Ami loses her brother and her arm to a bloodthirsty yakuza gang, Two mechanics replace her missing limb with a machine gun.
She then exacts some bloody, splatterific revenge.
3. Tokyo Gore Police (2008)
A very sexy policewoman battles mutated cyborgs all over Tokyo. I really love this one!
4. HellDriver
Set after the events of a zombie apocalypse, a young woman, and her allies make their way across a dystopian Japan in search of her mother, The zombie queen.
Features some of the coolest swords ever!
5. Reipu zonbi: Lust of the dead (2012)
The women of Tokyo are attacked by some very horny zombies and perverted Otaku.
There are sequels, But they all pretty much add up to one long movie. Worth seeing just for Yui Aikawa <3
6. Samurai Princess (2009)
After a female student gets raped and left for dead, A Scientist gives her a robotic body , and a Monk gives her magical powers to take revenge.
7. Versus (2000)
A real classic, If you haven't seen this one yet, You really should.
8. Pyscho Gothic Lolita (2010)
A girl named Yuki dons gothic lolita clothing and becomes a demon of vengeance. Also, has a hellacious fight with a cute one-eyed chick.
9. Mutant Girl Squad (2010)
Sorta like a very twisted X-Men. And a chainsaw comes out of a girl's butt.....
10. Vampire Girl vs Frankenstein Girl (2009)
Two hot monster girls face off in the ultimate monster brawl.
11. ZOMBIE ASS: TOILET OF THE DEAD (2011)
For those who love toilet humor(literally) And a horde of zombies covered in raw sewage. This movie is nasty and never lets up. Not really one of my favorites, But it did make me laugh and grossed me out......
Always look for the uncut versions, Don't settle for no bullshit.
there's plenty more, I'm still looking for other ones to watch lol
#NinjaTakes