First some facts :
The average flaccid, pendulous penis is 9.16 cm (3.61 inches) in length; the average erect penis is 13.12 cm (5.16 inches) long. The corresponding girth measurements are 9.31 cm (3.66 inches) for a flaccid penis and 11.66 cm (4.59 inches) for an erect one.
Displayed visually :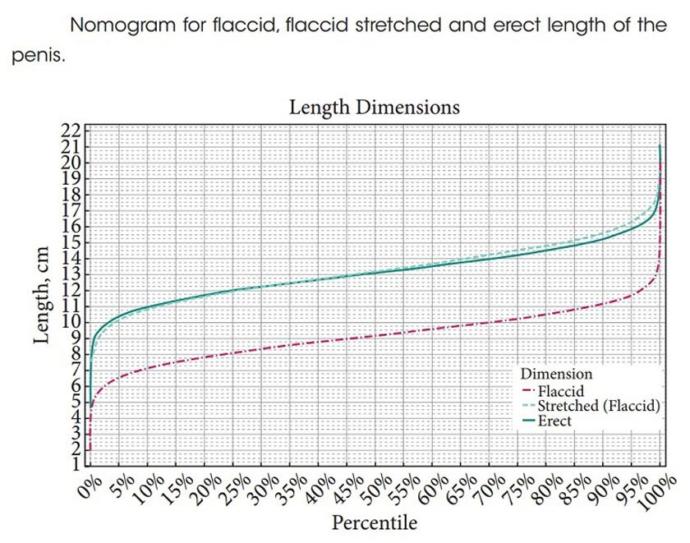 See how flat the line is from the 25% to the 75%? That's a difference of two centimeters. TWO That's 75 percent of men, that's you and most every guy you know is +- ONE centimeter from the average. To be THREE centimeters away from average you are already well into the 95% that means five out of every hundred men. You see that steep drop and rise on the very edges. That happens at 4 cms and suddenly you are at 1 in every hundred men at 5 cms different you are 1 every thousand men. Chances are you, you are well within the average and that's good.
WHY IS THIS GOOD?
I am glad you asked. Because the average length of a vaginal canal (from healthline) is...
Not that long. On average, the vaginal canal is three to six inches long. If you need a visual aid, that's roughly the length of your hand.
Imagine that, the average vaginal canal coincides with the average penis in a way that almost seems fated...
Fascinating right?
BUT ALL GIRLS LIKE BIG DICKS!
NOT THEY DON'T
There have been so so so so so so many studies on this exact topic. And here is a heatmap
You can read this by looking at the area that doesn't have a letter E that encompasses EVERYONE IN THE AVERAGE SIZE RANGE which as we know is most men.
But if I had a bigger dick more women would want to have sex with me!
NO! If you were better at sex they will. Women talk. So how do you become good at sex? Well, all women are different, they have different likes, dislikes, experience levels, kinks and of course, different vaginas so you can become a sex god by LISTENING TO THE NEEDS OF YOUR PARTNER. Communication makes good sex. Foreplay makes good sex. Touching her the way she likes to be touched makes good sex. Your dick, I promise you, has nearly no bearing on whether the sex will be good or not as long as it shows up.
Find the angles, find the places she likes to be touched...talk to her. I guarantee she is better at making herself cum than you are, learn from the master.
Stop worrying about your dick and stop watching porn like it's an instructional video.