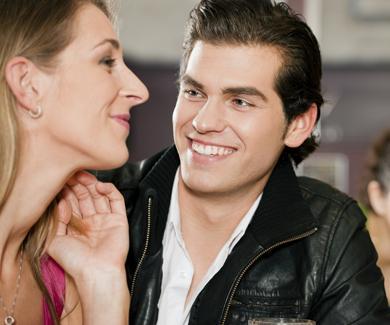 So I'm doing a follow-up to my first Take on why I think older women are better to have a relationship with. They may get annoying sometimes but I love doing follow-ups because you then get to engage in the topic more after you see everyone's responses.
Although my post got great support - more than I actually anticipated - and most people got where I was coming from, even younger women, there were still a few who have the idea that younger men only like older women for their sexual experience and are just sexually aroused by them because of MILF porn. No doubt that - for me anyway - older women certainly do hold great sex appeal and are extremely arousing, but when people try to say this is the biggest reason younger men want older women, I think they're trying to discount us as insincere because they're mad that we don't want younger women.
Let me try to break it down for everyone some more on why a lot of us like older women: as I explained in the original post, it's the maturity in many of them that appeals to us. It's their overall seasoned life experience that is very attractive - recently I was cooking dinner at my mom's girlfriend's house, who tested my food and thought it still needed something, so then I had no problem letting her take over and add some vegetables and more seasonings. I joked to her how she one-upped me and she laughed and said that it was normal for for someone who's been cooking for years versus someone still learning. I found that to be very sexy and attractive, even though I am in no way attracted to her because she's my mom's friend and I don't feel that way about her, but her experience with life was very sexy.
Character is also a large part of the appeal. Of course, not ALL older women have it, but many have cultivated that at their age, yes. They get to a point where they've seen enough life, made enough mistakes, experienced enough people, places, and situations where they're now shaped by it all into something more relaxed and more down to earth, which makes a lot of us guys feel pretty comfortable around them. They also tend to be more mannerly and polite, which holds enormous appeal alone. No doubt, I've known some older women who are terrible, sure, but I've also known many others who are great.
So an older woman doesn't have to be what "we perceive" as having some physical sexual appeal or experience for us younger men to want them. Often times it's the NON-sexual things about them that DOES turn us on. An older woman could still be a virgin - I've heard stories like that - and we would still her if her personality and maturity lined up.
So I think for people to say it's all about sex for us is because they're mad that we don't prefer younger women. They're basically saying our attraction is in genuine, but younger women wanting older men is sincere. Younger women and older men is a more socially acceptable norm, but doesn't mean it's always genuine either. Younger women are falsely taught that by nature they mature faster than guys their own age, so should pursue older men, when many younger women are no more mature than than the guys their own age or are often less mature. And you have many younger women into older men for "stability" as a guide for just caring about his money. The majority of younger people who use older people for money are generally females.
But having said all this, I'm not saying ALL younger women are bad, they're just not as developed and emotionally mature as people make them out to be, and I could still date one, but she has to be really special.
And honestly? Younger men dating older women really is not such a new idea, it's just that society has been in the dark about it because we're more focused on the younger woman/older man thing. So because younger women like older men that's perfectly fine and guys her age have to accept that, but because younger guys like older women it's just a phase based on sex. I think not.