So I saw an anonymous girl post one of hers awhile back and I commented on it and am now gonna do my own, lol. A lot of you already know I'm pretty weird and unique about stuff that turns me on, so I am honored to finally tell you more about it >:-)
Female sweat and smells
In my older life now, my sense of smell plays a much larger part in my sex drive. Sometimes the only thing needed to get me horny is a scent of some kind, and that usually is a smell from a female. Preferably her sweat or a pungent kind of spray she may wear, or the smell in her bra after she's worn it all day *starts daydreaming*. The smell of her room and her bedsheets can also be very intoxicating, especially with her in them ;-) Female perfumes and deodorants almost never make me horny. I need the natural smells/odors of a woman to really get me excited.
Big-breasted girls who hate when guys stare at their chest/are paranoid about them being seen
One of the greatest things that turns me on is a female with really big breasts who is self-conscious about it and gets annoyed by guys looking. I really could not tell you why. There is something so damn sexy about that flustering a girl. When I used to be on Answerbag, just seeing all the answers from big-titted females expressing annoyance at guys looking made me horny. And it's even better if they're wearing something that shows some chest, and they try to pull their outer shirt over themselves, lol.
Latinas with glasses
The Latina with glasses is one of God's greatest inventions. Almost all of my Latina friends and the Latinas I've known have worn glasses and it is sexy as fuck. The exotic appeal in it is like natural porn of its own. Glasses on Latinas is far more common than with Hispanic men, and I don't really know why, but I do know it's just damn sexy.
Women wearing flat pumps and open-toe heels
I've never really cared for heels on women, but the ones I do like are the open-toe ones which are far sexier. Flat pumps are even sexier to me, and I notice Latinas wear those a lot, which makes them even hotter ;-)
Girls ignoring catcalls on the street
If the porn industry started making cat call moments into movies I might actually watch them, lol. Another weird one about me is that I find it incredibly sexy beyond words when a girl is walking down the street and ignoring a guy calling something fresh to her, especially if it's really foul and dirty. I could not tell you why. Those YouTube projects some girls like to do though, where they're filming cat callers in the act, don't impress me though, and don't really do anything to stop the problem. My dream is to one day be there to see it when a busty girl is at a bus stop and a group of guys are saying all manner of filthy things to her while she's completely pretending she doesn't hear it. Jeezis, that's making me hard just thinking about it, lol.
White girls with nose rings and arm bands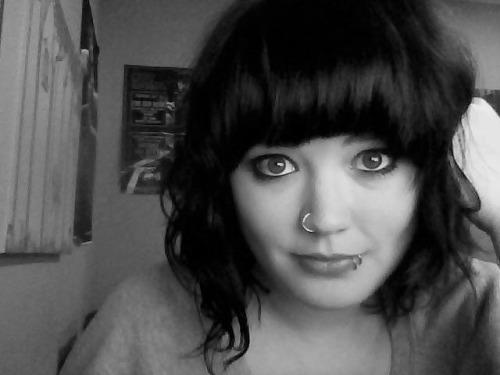 In the last couple of years it's really started turning me on to see white girls with nose rings, though a lot of them just wear the ones with the tiny jewel bud. What I like is the absolutely golden ring in one nostril, but not in the middle, it makes them look like a bull that way, lol. Gold arm bands on white chicks is also really hot, but you almost never see it. I like the ones that look really rustic and exotic like the one Princess Leia wore as Jabba's slave in Return of the Jedi.
Female shoulders and light gleaming on them
Ariel Winter, one of my sexual obsessions
Although I am a big-breast lover and can be pretty vocal about it, the female shoulders and upper arms are actually the second organs on a woman that incite intense lust in me. Especially when she wears black tank tops and other things that expose arm. But nothing arouses me more than the sight of pure light gleaming off the curve of her shoulder. It just makes me wanna grope it and kiss it all. Day. Long.
Females who hate tittysex
Sooooo many people do not get this about me, and in truth I don't even get it about myself. All I know is that women who don't like tittyfcking because it's messy or "stupid" really touch a weak spot for me. It really just makes me want to do it to them even more. Nothing is sexier than a big-breasted woman being put through the ringer and having a good stream fired right in her face and eye from between her boobs and getting so pissed off by it. It's the alarm of it, the way it's so feminine for a chick to be annoyed by it and think it's gross. And what really lights me up is if she says, "Just don't get it in my hair," or "How would you like it if I pissed in your face!" I actually could on and on a lot longer about this, but I'm just gonna keep it short and keep my undies dry, lol.
White nail polish
Another thing to really light me up is females wearing white nail polish. I actually think that's a lot sexier than the usual red or pink. Not that I ever really notice nails a lot, but when I do and I see chicks wearing white I do think it's pretty sexy.
I wanted to add some more but those are a little too inappropriate, lol.