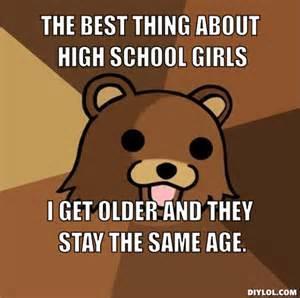 I happen to have a niece that is 16 and dating a guy that is 20. Supposedly I have heard he has a job and is a nice guy. I see it like if he is such a great guy that has some things going for him why can't he get someone that is his own age?
Why my sister and brother in law have not gotten the police involved and told him he needs to stay away is beyond me. I am pretty sure that they are not just cuddling and playing playstation together.
This guy is obviously taking advantage of a young girl that just doesn't know any better, not to mention breaking the law, it's called statutory rape. The law is set up that way to protect minors from older guys looking to take adantage of thier naiveness.
When you are 20 years old you are supposed to be doing things that 20 year olds do, such as going to college, working, studying for exams, paying rent on your little apartment, tying to save some money and so on. You also should be around people that are your age that can relate to you and are doing some of the things you are doing. You should not be able to relate to a girl in high school at 20 years old. If you can then that means you probably don't have a whole lot going for you and someone your age will think your a loser. There is no reason someone that old should be hanging around girls in high school.
I know some of you are thinking age is just numbers, but when you are still in high school and haven't even learned how to drive age is not just numbers, at 16 you're still a kid and that dude is an adult that has no business being aroung girls in high school. I just hope she doesn't get knocked up by this dude and hopefully he will get arrested.
If your one of these girls dating an older guy you need to wake up and realize this guy is raping and taking advantage of you. You will regret it once you get old enough to see it for what it is.
One last thing if the shoe fits where it, if what I am saying doesn't apply to you then nothing I said should offend you. If you are one of these guys you are wrong and need to stop doing what you are doing.