Today I write this take because as an MGTOW advocate I've been hit numerous of times with such negative statements like...
W

hy are there so many complaints about female promiscuity?
Why is it so common to hear MGTOW men say that women who've slept around are used up and low quality?
Why do MGTOW men slut shame so much?
And the list goes on. Of course, since MGTOW itself is not a movement, a cult, or a gang like feminism is I can only speak for myself, though I'm pretty sure a lot of us share this same mentality. Anyways before I start I would like to point out that I am not here to criticize or tell women what they need to be doing with their life, who should they fuck, how many guys they should fuck, etc. because obviously who am I to judge? Either way here are the reasons why I am against female promiscuity.
1. Women always expect MORE than just sex.
Yes, this is the foundation on why I'm against female promiscuity. since before starting puberty I was always told that women enjoy sex as much as men do but as time goes by this has started to sound more like a myth to me. I mean if women really did engage into sex just for the sake of pleasure then WTF are they not only just extremely choosey with who they want to have sex with but why do they also put so much expectations on their sexual partners before and after the act of sex? Such as
Expecting their sex partner to provide them with the status they are desperately fiending after. (like Kim Kardashian for example)
Expecting their sex partner to take them out for free food/drinks/smoke, etc.
Always expecting an emotional connection  with whom they have the sex with
Never wanting to move on and leave the man alone after the sex
Hell, I've even brought this up numerous of times in this site (and in many other along in real life) and you'll be surprised how many bullshit statements I've gotten upon bringing this up. Here are some of the statements I've gotten from the female members of this site that pretty much proof my point, don't know if they would make sense to you or not.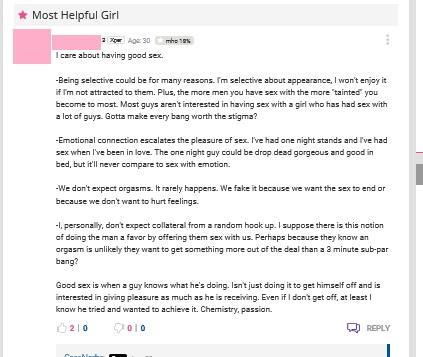 Anyway, bottom line is it don't seem like women really do enjoy sex as much as we men do if they are this choosey about it and put so much expectations on it other than just the sex itself. Us men in the other hand we do enjoy sex and it doesn't take rocket science or a master degree in biology to figure this one out. Yet when we want sex we...
Don't expect our sex partners to be pros in bed
Don't expect anything from our sex partners other than the sex itself
Don't expect our sex partners to look perfected with big tits and ass
Rarely expect an emotional connection
Rarely built attachments
We are simply happy just if we got a vagina to thrust on. Women in other hand don't seem to be comforted with just a penis, they want the penis that is...
Willing to provide for them
Able to ejaculate free stuff that they can benefit off in the long run
Willing to beat the shit out of all the other penises that will try to get in them
Able to make other vaginas jealous
2. Women literally do become "used up" when they've been with numerous of sex partners
don't get me wrong I was never an advocate of slut shaming. I never like the idea that women are like cars, you know the more you've drive a car the higher the mileage is and the higher the mileage is the lower the quality of the car will be. As much as I hated this concept recent studies have concluded that..
once a woman has more than 6-8 sex partners throughout her lifetime her chances of keeping a happy and sustainable marriage are only 20%
the more sexual partners a woman has the less number of serotonins she able to produce
these two things are enough to want to make any typical human being go against female promiscuity, of course I believe this also applies to men as well so if you're a woman you shouldn't feel so left out, but again is not that easy for the average man to have 6-8 sex partners in his life time. Obviously, I myself along with many folks who don't want to get marry or start a family right now shouldn't worry about this, but isn't this exactly what the vast majority of humanity wants? What hopes would all this bring to that vast majority?
also must not we forget that it was never we MGTOW who have decided that women who have slept around "are used up, or of lower quality"...you women already know it's true, which is why you make attempts at hiding your sexual pasts. You do it, because you want the big payday of a divorceable, rich man you can acquire, abuse, and bang Chads on the side. But you won't get that if all that's needed to lay you is a few hundred dollars and a few cosmos. So, they do what women have done best:
1) They lie, so they can do what they want. and 2) They shame, so that nobody calls them out on their BS.
3. Women stored DNA from every male sex partners they've been with!
http://www.neonnettle.com/features/1006-study-women-store-dna-from-every-male-they-have-sex-with
yes, this is correcting in case you haven't seen the video and this means that women collect and store all the DNA of every single sex partners they've had in their life and she will eventually TRANSFER ALL OF THOSE COLLECTED DNA TO THEIR OFFSPRING. with this one said I'm guessing you have an idea on how I along with many other men who've come across this feel by now, having to know the fact that the all DNA our future partners have been collecting will end up being passed down to our own children? Especially the DNA of the loser scumbags that most modern women rip their panties to hoping that they will build status for themselves in the long run. Lets not forget that in todays world I think its fair to say that the average women have already had more than 6-8 partners by the time she's in high school. So, to sum up this whole section up all I can ask myself is...
WTF wants to start a family with someone who is bound to fail in a relationship, can't produce serotonin properly, but most fatal of all with women who carry corrupted genes with her that will eventually end up within her/your offspring?
Conclusion
There you have it folks the reason why I am totally against female promiscuity. Don't get me wrong again I'm not saying it must stop but I guess as of now I once again have my reasons to withdraw and not take part in any of this, but I think my views would have been totally different if women really did engage into sex just for the sake of pleasure over the sake of trying to use sex as an easy way to gain some sort of entitlement for themselves. But I believe this can all be corrected if we men for once learn from our mistakes and stop putting the pussy on pedestals once and for all! So basically, I'm not against female promiscuity but against female dishonesty that result from promiscuity.