I know, I know... I'm at it again, but hey haven't done a sex take since last year 😂
New Year... Another Old Joke Take...
Just to make sure you're in the right frame of mind to read this:
I thought we could start with some funny riddles....
I assist with erections. Sometimes, giant balls hang from me. I'm known as a big swinger. What am I?
A crane.
When I go in, I can cause some pain. I'll fill your holes when you ask me to. I also ask that you spit, and not swallow. What am I?
Your dentist.
I start with a "p" and ends with "o-r-n," and I'm a major player in the film industry. What am I? Popcorn.
Arnold Schwarzenegger's is really long. Michael J. Fox's is short. Daffy Duck's isn't human. Madonna doesn't have one. What am I?
A last name.
I'm spread out before being eaten. Your tongue gets me off. People sometimes lick my nuts. What am I?
Peanut butter.
All day long it's in and out. I discharge loads from my shaft. Both men and women go down on me. What am I?
An elevator.
Okay, on to the jokes....
Homeless Man
There was a homeless man with a sign that said "1 dollar for dirty joke."
Seemed like a good investment to me so | gladly
handed over a dollar.
Homeless man: "There is black rooster alright? How many legs
does that chicken have?"
Me: "Two?"
Homeless man: "Right, now how many wings this black rooster
got?"
Me: "Two?"
Homeless man: "Right, now how many eyes this black rooster
got?"
Me: "Two?"
Homeless man: "Right again, now there is this white cat walking
around how many hairs are on that white cat?"
Me: "I don't know? A lot?"
Homeless man: "Well, why do you know so much about black
cock and not enough about white pussy?"
Dirty Blonde
A blonde walks into a dry cleaners and tells the woman at the counter, "I need to have an outfit washed."
The clerk was busy and slightly distraThected, so she looked up from her work and said, "Come again?"
The blonde said, "No, it's toothpaste this time."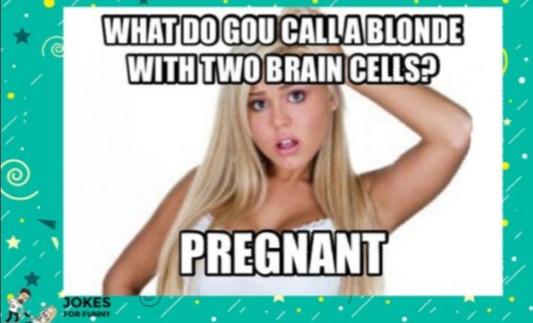 Two Amish women...
Mrs. Miller and Mrs. Yoder are in the garden digging potatoes. Mrs Miller holds a large potato in each hand and says " These remind me of my husband Kaleb's testicles".
Mrs Yoder says "Oh goodness...they are that big???"
Mrs. Miller says " No..,they're that dirty."
"Recently my girlfriend asked me if I was having sex behind her back and I replied, 'Yes, who did you think it was"
Bad Advice
"My Mum told me the best time to ask my Dad for anything was during sex. Not the best advice I'd ever been given. I burst in through the bedroom door saying, 'Can I have a new bike?' He was very upset. His secretary was surprisingly nice about it. I got the bike."
I hope you enjoyed...A little is better than none at all
(that's what she said🙃🙂)
As always, thanks for reading 💜
"Brainsbeforebeauty"😘