So this is an age old debate on GaG revolving around questions such as: 'Why are girls so complicated?', 'Why are guys so horny?', 'Women and men CAN'T/CAN be friends (typically can't)', '5 traits every women wants in her man', 'How to be an alpha male?', and many more. Okay, first off, I fucking hate the term alpha male. I do...
But besides my strong, personal, and violent bias towards a term commonly used in the animal kingdom to assert dominance between the males as to who has breeding rights and such and not by humans, let's talk about the two things men and women differ with the absolute most and thats, as the title suggests, sex and emotions! I'll try my best to get to point across to our more stubborn friends on GaG.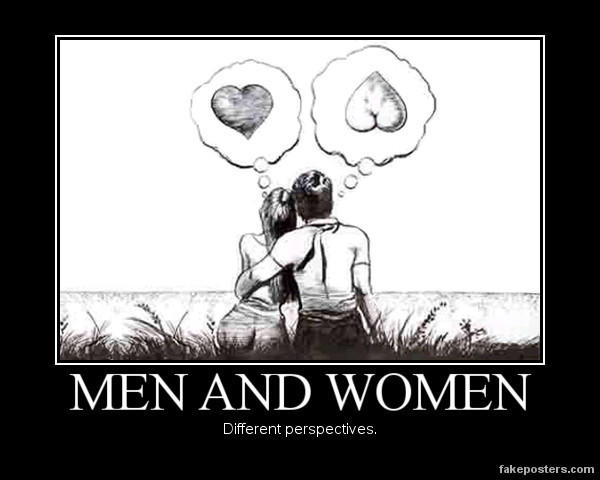 So the easy one: The dance with no pants
Sex is the relatively easy topic to handle first. Cause it's, honestly, easy as high hell to talk about. It's often said men think their dicks and, in todays society and in the past, that's true. Men do think with their dicks. They're taught that, because they apparently develop testosterone, that they just need to get their sexual tensions out. Once that's done, settle down. Get it in as much as possible, don't worry about anything (especially if she's hot). Oh, and you're automatically straight in these scenarios cause if you're not getting it in all the time you're gay, which is treated like a death sentence.
It's the literal opposite for women. They're taught purity matters, to wait for that special someone (for some, until marriage), and to just masturbate.
There's a saying and study that says women crave sex more than men and, guys, typically argue that that's impossible since they barely act like it. Well it's a fact that if a female acts on her human urges to have sex, and gets's caught or is found out, she's slut shamed. No matter how attractive he may be, she's slut shamed. Which goes against the double standard of guys who are proud players.
If he gets it in all the time and they hot, well congrats man. If he's not? He's gay.
So if she says no, she's being a bitch. If she says wait, a prude. Yes means whore and yes but after a while means she's a tease. If she's on the pill, she's obviously a slut, if she uses a condom and has it ready she must be experienced (aka sleeping around), if she uses nothing she's doing the right thing for him but now she's just a little ho, but if she's on the shot, NOW she's being safe.... Still a whore....
I'm sorry girls, it seems y'all lose either way.
I tried to act like I didn't notice. Emotions, emotions, emotions... (you better get that damn reference)
So it's often said women are more complicated and emotional then men. I think it's actually 'Women are easily able to show human emotions, who seem more complicated to men who don't.' In other words: It's the guys being the complicated ones. Why? Quite easy to tell, really.
See, a female is taught very early on that showing her emotions, that all humans have, is not only normal, it's encouraged! She's taught that violence doesn't solve all her problems, use your damn head, and think logically. Don't be a violent being and stay chill, but you can cry, laugh, show anger, and show you're nervous. It's normal.
Opposite that of guys who are taught violence and aggression are your best friends, ignore the rest. Ignore emotions necessary for a healthy relationship like empathy, compassion, and a caring nature. It's not manly, normal, and right for a young man.
So how is he the complicated one? Well, you gotta play 20 questions with him to figure out what the fuck is wrong! Guys won't go to the doctor if they should, they won't show their probably in pain, and are more reluctant to tell someone if they are probably in depression because it's taught that all of that is weak for a man to do. He's basically taught to deal with all problems and not tell anyone. So for someone to try and figure out what the hell is wrong is like trying to play a game with him. He won't tell you right off the bat, you gotta work around him. It's ridiculous!
So if you're a guy in a relationship with a female and she decides to tell you whats wrong, it's not her nagging you or just complaining. It's her trying to figure out what your problem is and she's just telling you everything that's wrong. You're unemotional ass just can't comprehend everything a female is taught early on and knows like the back of her hand.
So basically, these can cause a problem for obvious reasons. If a man is in fact craving sex 24/7, and a female is taught the opposite, how does that play? Well he might think of her as being a bitch and she might think of him as only wanting her for sex. This also creates the ole "men and women can't be friends" saying. If a guy wants sex all the time, she might take it as he only wants to be her friend for sex (which causes problems for guys like me).
A little issue with sex in general. Even if she says yes, some guys are less likely to actually figure out that she might want to orgasm as well and just forget that and remember, 'Mine goes pew pew'.
In the case of emotions, it's sad. A girl can show a guy all the love in the world and he'll take it as her being an overemotional thing. So the moment she stops being the loving woman you got so used to, NOW she's being complicated. A guy might really be in pain but not know how to say it. He might be in a real emotional wreck, but society taught him to go seek help is unacceptable. Meanwhile, the girl in depression is already on her way to a therapist and the dude is stuck in a deep loop.
So these problems can really turn serious. A girl asking for a little more equality may get called a feminazi while the guy is called a faggot for showing his emotions. It's a loop that's taught when we're young and carries into adulthood. So girls might end up developing trust issues because she accidentally got with a fuckboy, the guy might end up killing himself because he didn't go seek medical help for a problem he had. And nobody gives two shits because it's part of a socially accepted norm.

For those who do, the answer is simple but only if it's started young. Teach kids the same. Tell a boy it's fine for him to be a compassionate young man and tell a girl it's cool if she's aggressive. Tell a guy it's not okay to fuck around with so many people, and tell girls to stop slut shaming each other and let themselves be if they do have a partner or two. That's the only way to stop these issues. Otherwise, just buckle up and enjoy the bullshit cause obviously nobody seems to want to go to the root of the problem and realize it's how we raise our kids.


Hope y'all enjoyed.