"I believe in the Communion of Saints..."
Who are the Saints and why are they important? For Catholics, it's almost a given. To many Protestants and Evangelicals though, the practice of reverence and devotion to Saint is confusing – and even blasphemous.
With this MyTake, I will make a basic defense of the Catholic practice of reverence for and devotion to the Saints.
Who are the Saints?
The word "saint" comes from the Latin "sanctus", which means "holy". Saints, according to the Modern Catholic Dictionary, are "...those who distinguish themselves by heroic virtue during life and whom the Church honors as saints either by her universal teaching authority or by a solemn definition called canonization." All souls in Heaven, according to the Church, are saints. Some, however, enjoy formal recognition as Saints after, historically speaking, a lengthy period of meticulous research and tedious debate.
These are the men and women throughout the life and history of the Church who lived and worked, and in many cases, suffered and died for Christ and His faithful on earth.
Here are a few examples of various Saints and their backgrounds.
- Among them are kings and queens, like Edward the Confessor, Elizabeth of Hungary, and Louis IX of France. Others were peasants and commoners. Saint Pius X was pope from 1903 until his death in 1914; his father was the village postman.
- Saints Thomas More and Alphonsus Ligouri were lawyers. Martin of Tours and Ignatius of Loyola were soldiers. Catherine of Siena was a nurse. Blessed Carlo Acutis loved playing video games and wanted to be a computer programmer.
- Many had loving families and friends. Others, like Rita of Cascia and Monica, suffered neglect, abuse, and infidelity from their husbands. Saint Germaine Cousin is basically Cinderella.
- Some, like Therese of Lisieux, were pious and devout since childhood. Others converted from lives of great sin; Augustine of Hippo was a heretic, Blessed Bartolo Longo was a Satanic priest, and Margaret of Cortona was a mistress and prostitute. Prior to his conversion, Vladimir the Great raped his own sister-in-law, had many mistresses, and practiced human sacrifice.
- Some were devoted to serving the poor (Vincent de Paul). Others wrote great works on spiritual devotion (Francis de Sales and Theresa of Avila) and theology and philosophy (Thomas Aquinas).
I could go on and on. The point is that for any person, job, or situation in life, there's a Saint who has lived it.
The Role of the Saints and Devotion to Them
I'll begin this part by asking a simple question: Is God who He says He is? Better yet, does God cease to be God when a person dies?
In the same way that admiring a work of art ultimately credits the artist, to honor and revere Saints is ultimately to give worship and adoration to God. Some claim that when Paul writes of "saints", he refers to the faithful Christians of his time. Fair enough. But does a holy man stop being holy when he dies? Paul writes in the sixth chapter of Romans that we are baptized into Christ's Death and Resurrection (Romans 6.3-11) and later, in his letter to the Galatians, that it is no longer we who live, but Christ who lives in us (Galatians 2.20). Matthew 22.32 reports Christ Himself telling us that God "...is not God of the dead, but of the living".
The implication then can only be that a faithful Christian's life and holiness continues after he departs his earthly life. Therefore, we here below have every reason to remember the names of and celebrate the lives and works of those faithful who have gone before us and now rest in Eternal Glory. With this in mind, I will be so bold as to say that the rejection of the Saints (Mary in particular) by those who call themselves Christians, that viewing other departed Christians merely as "dead people" who have no significance beyond the grave is a profound inconsistency and is at best inherently atheistic.
Additionally, I can only wonder what it says about the love those faithful souls have for us and for Jesus if they're not in Heaven praying fervently for us, but rather just prancing about and saying "welp, I'd sure hate to be that guy right now!" upon seeing our sufferings or if they are not rejoicing at our joys.
"Do not weep, for I shall be more useful to you after my death and I shall help you then more effectively than during my life" - Dying words of Saint Dominic
Do Catholics worship images of Saints?
No. We have prayer cards, holy images, statues, and other physical depictions of Jesus Christ, Mary, and the Saints for the simple reason that humans are beings of sense. It's one thing to think about something or someone, but it's another to see, to hear, or to feel. Images of a person we love help excite and direct our affections for that person, so the same certainly holds true for a faithful departed who wrote about and practiced a helpful method of devotion or prayer, who had our same occupation and career, who was of a similar temperament and personality, who had similar interests, or who suffered the same things we suffered.
Images therefore help us to contemplate the subject of the image, not the image itself.
Conclusion
I wrote this MyTake for two reasons. First, in response to a recent series of questions here that attacked the Communion of Saints. The second is to give a (very) basic defense of and explanation of this aspect of the Catholic Faith to those who are legitimately interested or curious; admittedly, it may appear to be unusual to those unfamiliar with it.
The Saints of the Church, canonized or not, are outstanding intercessors. Saints are made, not born. I may write a MyTake on Saints who I think are most relevant to our age of addiction, mental illness, loneliness and isolation, strained relationships, and other issues facing our world. Until then, thank you very much for reading, God bless, and have a wonderful day.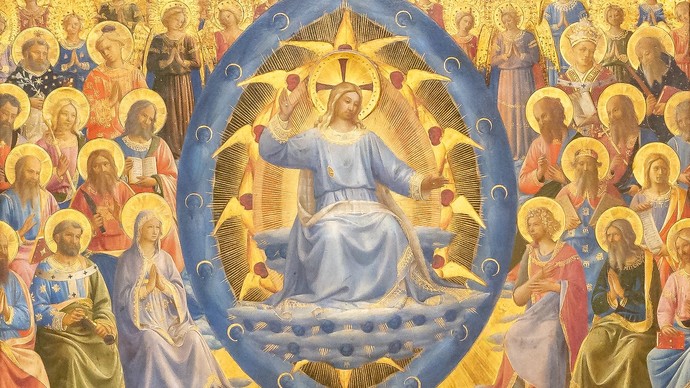 Mary, Queen of All Saints, pray for us!
Published on November 1, 2023, the Solemnity of All Saints