Lol it's actually got a very bro-y angle to it in my opinion. Here's why I think it appeals to the male not really in that in touch with his feminine side: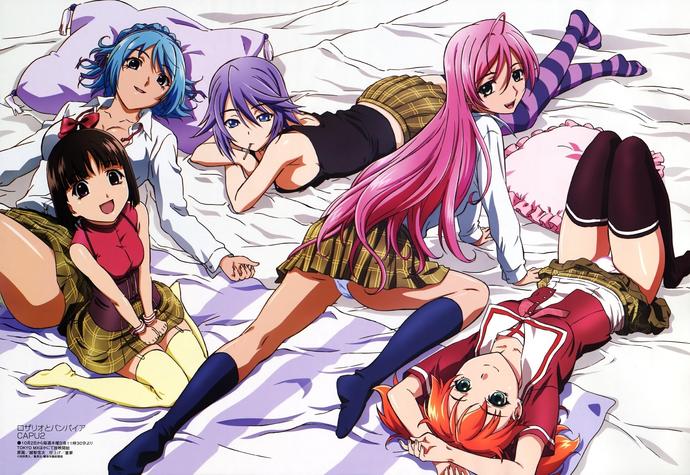 1) Case Study 1: Rosario + Vampire
Regular boy enrolls by accident in a school for monsters and a super hot vampire girl becomes obsessed with his blood and therefore him. Subsequent episodes are basically excuses for more ridiculously hot girls to become obsessed with him despite him being in every way average until about three or four or so are established and then the rest of the series is devoted to them fighting over him for his affection.
This is a male fantasy in it's truest form. There's no pretense of which girl to choose--every girl is totally fine with the fact that he goes back and forth between all of them. Also, the real goal of most young guys is to be with a girl out of his league. Therefore, the fantasy of having a bunch of girls out of his league fighting over him is pretty fun to think about.
2) Case Study 2: Demon King Daimao
Unusual for an anime (I suppose) a strong male lead who doesn't look like prepubescent boy enrolls in a school with, you guessed it, hot girls who are obssesed with him, but...he's also a demon? This show plays with the dark/animalistic vs the good natured innocent sides of a guy and how girls are attracted to the evil despite saying they're not.
Having girls be turned on when you get all mad and in your demonrage mode is another male fantasy that in reality makes girls think you're a weird spazz who can't keep his calm. In this show and many others girls inexplicably think the guy's hot...no matter what he acts like. And that's pretty all right with me. At least in a tv where it's understood that this is story land.

3) Case Study 3: Girls Bravo
Boy stumbles into a world inhabited solely by hot girls who become obsessed with him because he's the only male they've ever seen. When he returns to the normal world one of the girls has followed him and becomes his roomate then...sexiness ensues.
While it would have been if he had stayed in the world inhabited entirely by hotties. The show does what anime does best--keep things sexy and fun without being porn. It never makes you wish you could actually see them hookup--it keeps you just enjoying the ride and the what if scenario that's constantly teased. It's written like a boyhood fantasy come to life and that's just what tv is supposed to--a fantasy of what could be.