Recently I saw a question posted by a female GAG user and it inspired me to write this take.
Here's another similar question,
Take a look at the girl in the picture below.
Now if someone asks me "Why do you like this girl's butt?", my answers would be that it looks attractive, hot, sexy etc. etc. Well, I'm not going to overthink about her pooping or tooting like how the OP of the "Question 2" has mentioned.
But in reality there's more to it than being simply being attracted to two bouncy balls, or "literally a ball of fat" as described by the OP of "Question 1".
So why are guys attracted to female butts if they are for pooping? What's appealing about them? And is it bigger butts that guys want? Let's dive into it.
It's not all about the butt
The attraction is not merely about having a big ass or a small ass.
Men are actually attracted to the "hourglass shape" of a female body.
This so called "hourglass shape" consists of a low waist to hip ratio, which means your hips are wider compared to the circumference of your waist, and then there's this curvature of the lumbar section (lower part) of the spine.
Now this type of a body shape comes with a nice booty!
The area where a female's spine attaches to the buttocks is called a "vertebral wedging". During a study it was shown that men were more attracted to women with a 45 degree wedge in the vertebral wedging regardless of the size of the butt (Example: see the image below). Which in other words would clarify that,
Males are more attracted to a specific shape of the female body rather than the size of a specific body part such as the butt.
It's said that in the ancient days, women with a 45 degree curvature would have been able to do foraging with more ease during pregnancy since that type of a body would have prevented them from having spinal injuries. How? Go on reading.
Notice the 45 degree curvature in these photos?
Protection during pregnancy and child birth
As you see, this sexual attraction towards wide hips has a lot to do with bearing children. As humans evolved over the years, there was a dramatic increase in the size of our brains; and during the delivery, a child has to pass through the pelvic canal to be born. So, for this reason it is pretty obvious as to why we are naturally drawn for the selection for a wider pelvic canal. Because women with a wider pelvic canal, or in other words women with wider hips, are likely to birth children with more ease.
Having a wider hip ratio affects the body's center of mass in a positive manner. The embryo grows directly above the center of gravity (of the body), so there was a risk of falling down on the fetus, which could lead to genetic loss. Thus, wide hips are supposed to provide balance to the body during pregnancy by lowering the center of mass and increasing bipedal stability (ability to move on two feet). The body achieves this by depositing fat in the buttocks and thighs.
Therefore, having a wider pelvic bone structure made walking and foraging much easier for our ancestors.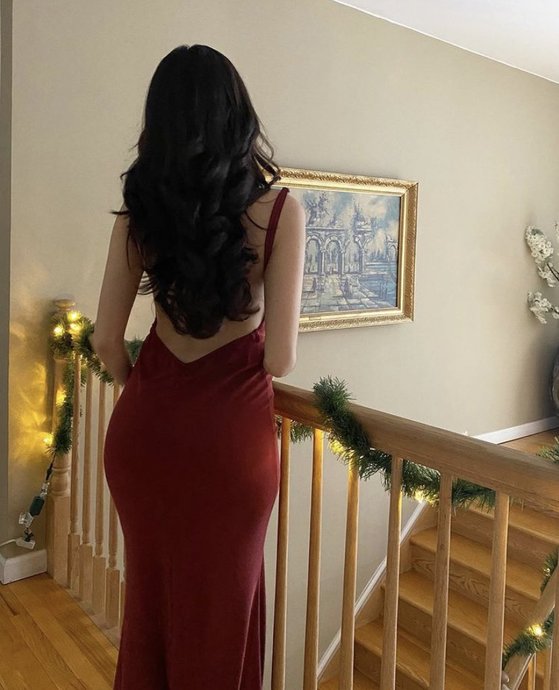 It's beneficial for both reproduction and survival
Okay, now the attraction towards wider hips has even more to do with "natural selection" and "sexual selection".
You may already know these stuff, but in case if you don't remember, natural selection is a process where the adaptive traits of an organism are preserved and passed onto future generations as they support them in reproduction and survival.
Remember the survival of the strongest thing they taught back in school? This is about it.
Example: Evolving long necks has enabled giraffes to feed on leaves that others can't reach. The ones who are able to feed on the leaves survive while the ones who cannot die.
And "sexual selection" is a form of natural selection where a member of one biological sex will select the opposite sex to mate with them on the basis of specific characteristics.
For example, let's take birds. Male birds tend to have colourful feathers so they can attract female birds to mate with, that's how sexual selection works.
Now when it comes to humans, the low waist to hip ratio and protruded buttocks (small waist, p̶r̶e̶t̶t̶y̶ f̶a̶c̶e̶, and a big bank) is a case where natural selection and sexual selection go hand in hand. Which means when it comes to a small waist and a curvy booty, it has both reproductive advantages and survival advantages.
Looking for differences
Okay now let's talk about "Sexual dimorphism", which means the differences between individuals of different genders in the same species (In our case, differences between men and women).
For sexual reproduction, the males have to identify their opposite sex, therefore waist to hip ratio can act as a cue (or a sign) of biological sex. For this reason, during puberty, with the beginning of the menstrual cycle in a female's body, fat gets deposited in gluteofemural areas (such as buttocks, breasts, thighs).
Both of these processes happen during the same time. Thus, females tend to have bigger butts, thighs and breasts compared to males.
Some other similar features (that helps with identification) in females would be long hair, breasts, feminine voice, facial features, long nails etc.
Having healthy babies
A lower waist to hip ratio is also an indicator to a man that his children are going to be healthier. The reason? The fat accumulated in gluteofemural area represents a specific form of fat called "Long chain polyunsaturated fatty acids".
The buttocks store Omega 3 fatty acids, and this type of fat plays a huge role in the neural development of an embryo.
Studies have shown that children of women with lower waist to hip ratio score higher on cognitive tests. Which means such children are likely to be intelligent.
Identifying if a female is pregnant or not
A lower waist to hip ratio in a woman also became an indicator to a man that she is not currently pregnant. During the embryonic development, the waist to hip ratio increases indicating that the woman is pregnant. Hence, a lower waist to hip ratio indicated that a woman is not pregnant but rather ready to become pregnant.
On another way, it also indicated the number of children previously born because the size of the hips increases along with the number of children born.
Your daughters would be gorgeous?
Studies show that women with lower waist to hip ratio are more likely to bear daughters who would also have a lower waist to hip ratio making it a heritable trait. Now this can be considered as an indirect advantage since during the selection of a partner, men do not tend to analyze if one day their daughters would have a "sexy look". For that reason, we can take it as an indirect benefit.
Summarizing the butt story
Alright, so in case if you were distracted by the images or if it was TLDR and didn't read the 'take' properly, well then please read this part.
So, based on the above facts, we can see that,
Women with wider hips tend to bear healthy children and the structure of their body helps them with survival.
The "Polyunsaturated fatty acids" stored in a female's buttocks helps with the development of a baby's brain. Women with good storage of these fats can bear intelligent children.
Further, such body shapes helps us identify who is suitable to mate with.
Although some women think that it's the size of the ass that men are attracted to, it's not the size that men are attracted to. What men are actually attracted to is,
A lower waist to hip ratio (hourglass shape) along with a 45 degree curvature in the lower part of the spine (where the spine connects to the buttocks)
Things to note about this attraction considering the questions of the two anonymous GAG users (The ones I posted at the beginning of this post),
What's cute about a butt is its jiggly/bouncy nature, and how it moves when you walk.
Men don't care about the pooping and farting part. It's a natural thing after all, and it doesn't cross our minds when we see a booty.
Now I think you can understand why men are attracted to butts and hips in terms of biology and evolution. Sorry for the lengthy explanations and for any spelling/grammar mistakes.
Thank you for reading :)
- - -
Disclaimer: Credits for all the images posted above goes to their respective owners. I do not own any of them.
#HourglassShape #WhyGuysLikeButts #HipsAndBooty