See these girls? Would you like to take one of them out on a date? Well, if so, I'm sorry to break it out to you that none of these four girls are real. They are generated by AI technology.
What you are seeing here is more than just four sexy blondes birthed by a computer. What you see is the rise of AI Pornography. Soon AI porn will invade the internet and one day we'll lose our ability to differentiate who is real and who is not. One day you'll be talking with someone over the internet who doesn't even exist in real life.
You already know the damage Instagram did to the society. People became attention seekers and started running after unrealistic beauty standards. Now think about the damage caused by OnlyFans and AI porn.
And guys that's why we need to ditch them!
The problem with making models rich
Girls young as 18 are making tons of money from OnlyFans. You know the problem is, when one girl starts earning thousands every week by selling her body on OnlyFans or any other online platform, other girls get motivated to do the same. This doesn't lead anywhere good. Women are losing their respect and men are becoming weaker by becoming sex addicts who make these models rich.
Some men who get addicted to these models start paying out of their demise. Imagine wasting your hard earned money to see some random girl's body. A girl who won't give a damn about you. These models are doing selling themselves solely for money, they don't care about you.
When you start making these women richer by paying to see their porn, what other girls see is how easy it is to make money by making porn. So they start creating adult content, and soon they get spoiled by the money they make. Later, these women will regret their choices. Remember Lana Rhoades? She even wanted her porn to be removed from the internet which was impossible and also for the adult films to be banned.
Feminists destroying women's' worth
I've seen feminists defend girls who want to get into this industry by saying "They are trying to make a living. You have no right to judge a woman's choice, she can do whatever the f**k she wants. And sex work is real work, so who are you to judge?" Yeah, so drug dealers are also trying to make a living bro, so what about that huh?
Adult entertainment is not so different from the drug trade after all. Your best customers are the ones who are addicted to what you sell.
Once upon a time a women who called themselves "feminists" fought for the honor of females. They fought so that women could vote. They fought so that women could learn and become people who are useful to the society.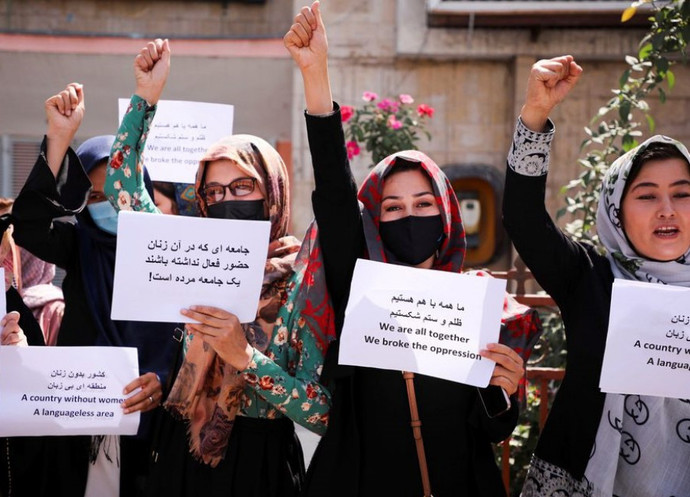 But nowadays, the so called "feminists" are destroying the honor of women. Recently I saw some feminists encouraging women to use more sex toys so they don't need men to please them. Is this what feminism has become?
I once saw a female GAG user's comment encouraging another female user to start an OF because "It's a way to earn something so why not?". When a male user asked her if she would do the same, she said "I wouldn't do it though".
These feminists need to get F off, they need to stop ruining the minds of women. Especially the minds of young women.
Why women should not get involved with OnlyFans
Some of these girls have no idea what they are getting into. Many of them are just lured to the money and don't see where it goes. It's all about money, so some of these girls may get invited for a meetup by a fan who is willing to pay her a fair amount of money. And she becomes an escort, a prostitute. This rabbit hole doesn't lead Alice to wonderland.
U.S research and survivor services organization, "Avery Center" released a report on the reality behind OnlyFans. According to this report,
30% of respondents said the constant demand to create new content was a primary cause of anxiety and depression. They all said this came in the form of repeated emails and notifications: "They send emails that if you don't post they [will] take your account down."
Models are also known to have felt the pressure to meet unrealistic beauty standards due to subscribers presenting negative comments about the content creator's body.
An OF creator has said to Avery Center that,
"It led me to start in-person work. I realized I was already doing online [sex work] and I know I could make more doing in person."
Models have also reported about being stalked online.
According to Avery,
11% of those surveyed said they were aware of minors who had accounts on OnlyFans, and said they estimated they personally were aware of a total of 35 minors who had content of them sold on the platform.

30% of the content creators said they received private messages from suspected traffickers offering to manage their accounts for a portion or all the proceeds from their subscription revenue.
Why men must stop paying for these models
Talking about men who pay these models, many of them are known to be single men who lack the intimacy of a woman. No wonder how OnlyFans created an empire faster than Genghis Khan during the pandemic, a time when people couldn't socialize and were filled with boredom and loneliness.
Now, the more a man starts paying a girl to do sex acts, the more he starts hating women.
It's not like having a girlfriend or a wife with whom he can share real intimacy with. A model needs money, that's all she wants. So, the man begins to hate women because he needs to pay them to gain affection.
Further, he starts seeing thee women as objects or some property. Imagine inserting a coin to get a can of soda, or paying to get extra lives and gears in a video game, this is what it looks like.
When you see the stripping herself down for you on the screen, you feel like she is doing it for you. You fall in love for her who doesn't give a f**k about you. And you don't realize the fact that there are thousands of men out there loving and lusting for her. So when it hits your head you get jealous, you resent this woman, you start stalking her online.
When a man start resenting women, he becomes abusive.
This is a fantasy, like I mentioned earlier, it's not so different from a drug addiction. Once you get addicted you want more and more.
You shouldn't waste your money paying for these models who strip in front of hundreds of men. Instead use your money for something useful.
Negative impact on the society
Coming back to the topic of AI porn, you probably understand why they have the need to create fake models using AI. Money! When you create models using AI, they look perfect, they meet demands of the market, which means there'll be people willing to pay to see these content.
Now both AI models and real OF models leave one big negative impact to the society.
Unrealistic beauty standards and sexual fantasies
Men who go after these models end up looking for all the fake beauty and wild sex acts in real life. When they see a woman in real life, all they see is the flaws in her appearance. They start expecting their partner to behave the way these models behave.
When you pay a model she does whatever you ask her to do, but you can't do that with a normal woman, so this leads to sexual frustration and resentment.
Final words
Guys, never ever pay a single cent for a woman who is willing to undress herself in front of a cam. Don't lose your money for some useless sh*t like that, you are way way more worthy than that. You deserve the love and intimacy of a woman who actually cares about you.
Girls, please don't fall for these traps. Never lose your self-respect for money. Don't get into something that'll damage the rest of your life, something you might regret after years. If you have kids or if you are willing to have kids it'll damage their lives as well.
Thank you for reading! Sorry for any grammar/spelling mistakes.
-
Conservative OnlyFans models says she wouldn't recommend girls to follow in her footsteps
Article on the Avery Center Research
Credits for images shown in this 'take' goes to their respective owners.
#OnlyFans #AIPorn #Pornography #DarkSideOfOF