You can't differentiate between a true good girl and a reformed party girl guys until it's too late
5 year ago:
Now:

Many guys/girls think that it's very easy to pick out the slutty girl from the good girl but that's just not the case. Based on what a woman is trying to portray to people, she will put on a mask she can keep for years on end to keep that image.
I find it kind of funny. Many girls use the 3 month rule to weed out guys who really wants to be with them from the guy who just wants them for sex. They do this because the only way to definitely figure out which guy is which is by sleeping with him and by then it's too late.
A perfect example of this is from my real life:
I met a woman once. It's a funny story. I was working with a power line crew in a neighbourhood. When while walking along a street I saw a woman trimming a hedge in her yard. Broad daylight this sexy little fire wearing a bra and tiny little panties bending over showed her pussy lips and anus doing yard work. I ran in the yard and approached her almost hypnotized. Humoured by my reaction she called out another half naked chick from the house and we had a few laughs talked a bit before arranging a date later that day. Lady said her husband is not home these days and she is feeling to hit the club tonight and more. Bad girl right? Didn't go on the date but few months after I broke my hand. "Are you ready" said the nurse who walked in. I looked up, and it's the same chick behaving like a professional lady. We laughed when we saw eachother.

There was also a story of a recent woman who is married with 3 kids. She was found dead in the HBO producer's drug dealer apartment with her panties in her purse after ODing on cocaine. People never suspected her of ever doing something like this and she was described at work as people very professional.
Women don't like to be conformed into good girl stereotypes and hate being looked at as cheap hook up material when it time to comes fo relationship time. I guess if society was less into shaming female sexuality more women would be open towards it but there's a reason for that which I'll address later in the myTake.
WOMEN ARE VERY GOOD AT PUTTING ON AN APPEARANCE FOR DIFFERENT OCCASIONS:
1. The party guy who is fun to be around, is not judgmental and not hung up on sex can bring out that inner freak of women, and make girls do sexual acts she would otherwise hide from her husband/long term boyfriend.
2. The guy who acts serious, judgmental about women being promiscious and hung up on sex counts of their partner or certain sexual acts will make a woman retreat and hide her inner freak from him.
This is why many girls date the "bad boy" in their youth and then show a completely different face towards their husband in their "settle down phase". They do this because they fear being looked at as a cheap whore by their husband and them not respecting them in the long term relationship. It's also one of reasons women will lie about their sexual partner count often when asked. They don't want to risk being looked at as a pump and dump material by males they would like to fear a future with.
Many girls also may hide their sexual acts/ONS for this very reason or because they've done it before and found that they didn't like it.
Anyways unless a woman has tell tale signs of being promiscious which is rare. You'll never find out your girl's sexual past/behavoir unless you find out more about her past from people around her (snoop) or the mask crumbles which will happen when your already deep into the relationship.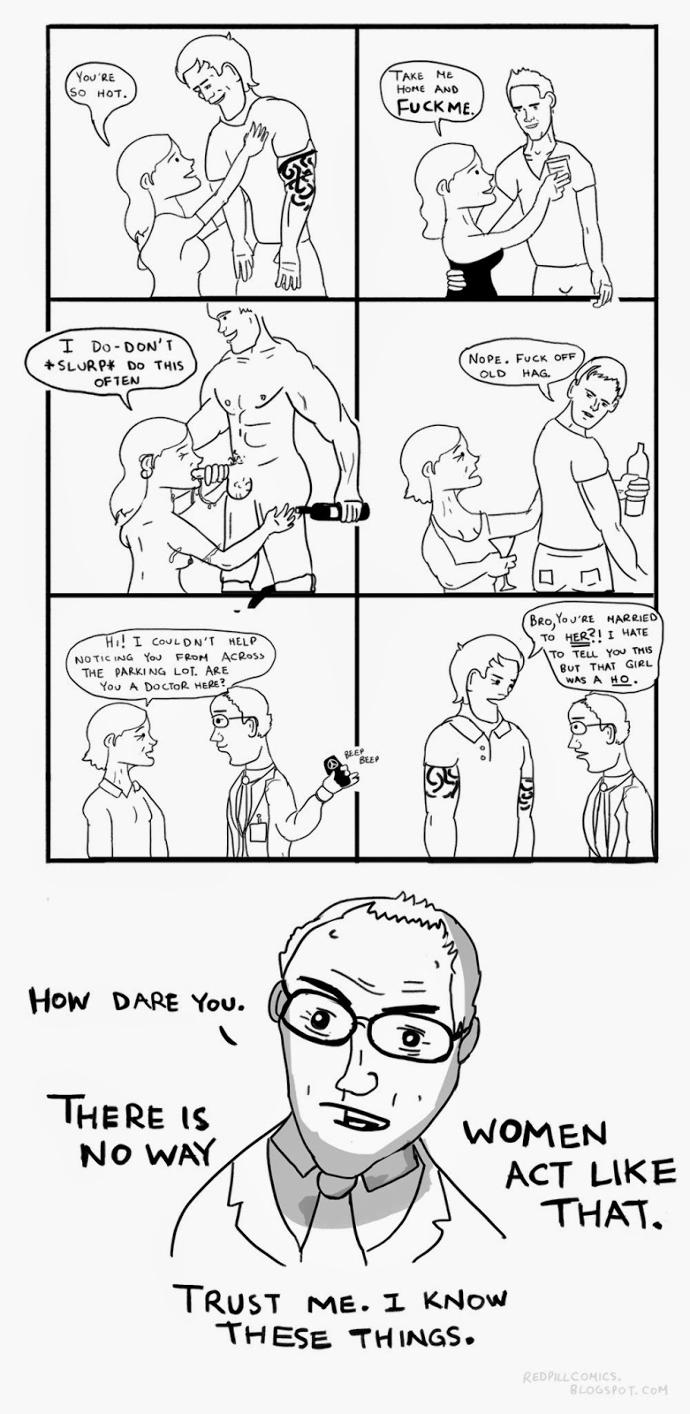 The only safe guard men have is not getting married, especially with women who keep pressing for it and giving them ultimatum of either marry me or i'm breaking up with you.
The bad side of women not being completely honest about their past comes in the form when marriage comes into play.
Many women today want to be men and sleep with as many people as possible.The problem is that men can detach their emotions from sex often while women cannot a lot of times. Hence, they often fall for their ONS, or friends with benefits and hope for a relationship from them. The effect of this on marriage can be seen in graph. If a woman sleeps with a guy who satisfied better than her husband in the bedroom she's not going to be satisfied in a marriage with her husband. Many women after tasting many different dicks (sorry for being crude) cannot handly just being with one dick especially if that dick wasn't the best she's had in the past.
The combination of women hiding/lying about their sexual partner count and putting on a mask for their future husband to commit with them leads to divorce. Hence, the 60% divorce rate in which 70% is initated by women.
The reason slut shaming is put in place for women is because it is a a safe guard for men to not end up committting to a woman with a high partner count and eventually marrying her. As we know marriage for men is a losing propostion with divorce favoring women so men who marry promiscious women masked as "good girl" have already set themselves up for failure.
We also know many promiscious girls sleep around and could very well be having sex with multiple guys without them knowing. Many women I've know in real life have pawned off the kid of another man onto anothe. The only time the dude finds out about the kid not being their is if the kid needs to get a blood donation or if they suspect the kid isn't their own and ask for a dna test. Some do it too late and still end up paying child support.
THE POINT BEING: YOU'LL NEVER FIGURE OUT A PARTY GIRL FROM A GOOD GIRL UNTIL IT'S TOO LATE. IF EVERYONE WAS HONEST, LESS SHAMEFUL AND OPEN ABOUT THEIR SEXUAL BEHAVOIR, PRFERENCE AND PAST THE WORLD WOULD BE BETTER.