I have been all over this great country in every 48 states. I traveled as a sports fan, tourist, outdoor activist, and now as a profession in the trucking industry. Over the past 20 years, I have seen this land go through a massive divorce surge, a new epidemic called sexual harassment, and so on.
In addition, I have seen some of the worst women you can imagine. The street strollers found in the inner cities are really bad: strung out on drugs, no hygiene at all and usually full of diseases. The lowest of the low are the Lot Lizards who hang out at the truck stops and bother the heck out of us late at night.
"

The women there are safe from crime, drugs and are constantly monitored for diseases.

"
In contrast, I traveled out to Nevada several times and witnessed the Bordello system out there and came away wondering why this great nation does not embrace this concept.
As a fellow tax-paying American, I feel this is the best way to curb the spread of disease, clean the streets of the nasties, put a tighter clamp on any child prostitution and in many ways, leave women in general society alone.
Look at how this is done in Nevada:
The women there are safe from crime, drugs and are constantly monitored for diseases.


Though I cannot provide and hardcore statistics, many of the residents in Nevada have told me that the divorce rate, rape and child assault crimes in Nevada are minimal because of the brothels.


Almost all of the houses are out of plain site, eliminating the argument that children who see these places are irrevocably brain damaged.


The folks are used to them for the fact that nobody bothers anyone.


None of the brothels I have visited ever had any problems with violence. Something about sex really brings peace to a man.



Some of the places I have visited stated that the bordello system is one of the first lines of defense against child trafficking.
Now I am certain many of you are vehemently opposed to this, due to God`s Law and such. But there really is no better way to deal with this.
If legalized prostitution was instituted through the 50 states, online predators and sex crimes against underage children would almost disappear.
Why take chances when there are legal alternatives? Always made sense to me.
In addition, I feel
sexual harassment charges would drop dramatically.
No reason for a man to ask a woman out for a dating risking any sort of legal troubles when he can just save money and party at the cat-house.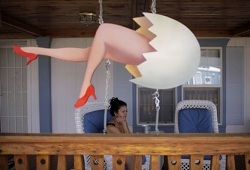 Finally,
it does indeed bring in money into our crashing economy.
Some argue that our government cannot find a way to tax the sex-industry: HOGWASH! Believe me, our government specialized in taxation.
Let's face it folks, prostitution is almost regulated in one form or another in every first world nation except for 49 states in the USA. The way our law enforcement goes about prostitution is not a good way either. Sure they make arrests and print names in websites and newspapers but is this the best way to go about it? I say no.
Some can argue about how this will ruin our children, I can counter on how several other things are worse: drugs, smoking, mindless violence to name a few. Are kids really as stupid as us grownups claim them to be? If they are, it`s our fault for not teaching them in a way so they CAN understand.
I say the Obama Administration should seriously look into this. We can solve a big problem with a successful long term problem. How each state dictates policy is up to them.
This country can move forward and improve a very vital aspect of society if we can regulate and legalize prostitution properly now and not later.