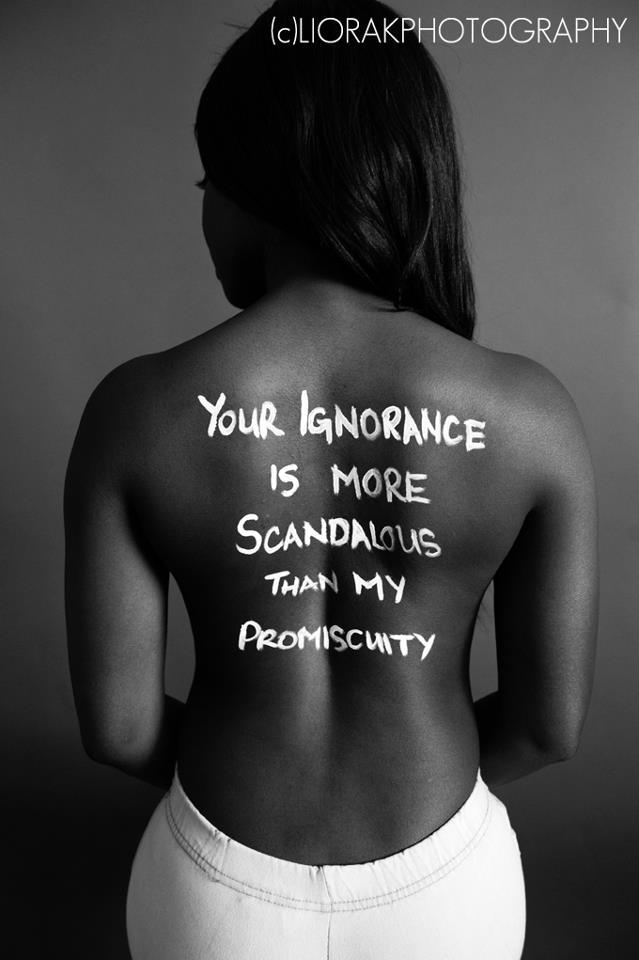 I think the whole concept of slut shamming is actually ridiculous. Everyone has sex, everyone expresses themselves differently and I just so happen to do mine through sexual innuendos. I do not believe that the act of sex is sinful or something that is forbidden until the day in which people tie the knot and give themselves to their love. I will never apologize for thinking that sex, is just that. SEX. It doesn't have to be with someone you love, have feelings for or even know. I think the whole concept about life is experiencing new things. I think what gets me is how people can sit there and judge others about their promiscuity but they are by no means living their life in any perfect way shape or forum.
I think the world slut is just thrown around so loosely now a days, just like when people assume that a women is loose because of the number of sexual partners she has had. Now I get that the big numbers may look bad, but I do not think that should be a reflection on a person. A number does not reflect on who they are, just as a tight dress makes a girl easy. You are what you make yourself.
Also note, just because a girl has a lot of sexual partners does not mean that her lady bits are loose. Learn the human anatomy a little before you sit there and judge me because of my lifestyle and my body choices.
You see, I have been diagnosed with a sex addiction. I have tried medications, the stupid counseling they suggest and even going to an addictions group that was a "god" centered environment. It's like just because I am a female, I get judged period, then add on the sexual addiction and holy hell I am going straight to the devil for my sins, good lord. Unless I am inflicting pain on someone, ruining families or anything in that nature, I don't think that I need to be told how to live my life.
It is my body and I will do what I want.
Am I worried that a guy will never date me because of my promiscuous past? Not at all.
Do I care that guy's think easy girls are slutty? Not really.
Trash Attracts Trash:
Not true, you can attract any type of person that you want in this world. I don't think just because you have a difference in your life means that you will just attract those types of people.
I can say I have never been in love. Have I chosen to not be in love? Maybe. Have I dated the wrong types of people in my life? Maybe. I am young, I have so much that I have to live for. The thing about sex for me is that it does not fill this empty void. I am not miserable. I am not lonely. I am not a whore. I am not these labels that people insist on putting those who are just sexually expressive. I am sorry that you can not look at sex in any other light besides it being holy and important.
But guess what?….
It is not your place, my place or anyone's place to judge someone based on WHAT THEY DO. Do you like people in your business? No? Well then why does it seem like it is okay to put your nose in someone's sexual business out of all the things that you can pick. Why that?
Why do people tend to focus on the bad and not the good?
You got me on that one.
Let me tell you a little story about myself okay?
I bust my ass working a full time job and going to school full time. You know what I have to show for that? My GPA that I have worked so hard to keep. If I want to have a drink to relax, how is that okay, but the minute I want to lay down and relieve stress in a NATURAL WAY is all of a sudden oh no! She did what? With who? How many times? Wow that is so gross!
Oh but people would talk if I resorted to drugs and drinking right? Calling me a tweaker to an alcoholic, yet some how this is better than the girl who has sex.
Yeah, I am the girl who has sex. I love sex. If sex was not suppose to happen, we would not have a penis nor a vagina.
All I am sayin is that sex is OKAY. It is OKAY to go out and have sex once a day, twice a day how ever many times. It is about making sure YOU are happy, not anyone else.
I have learned no matter what you do in life, you will never make everyone happy. So I am picking the most important person to make happy in this world and that is myself.
I know many people will be up in arms about this whole shibang, but hey its 2015 and not 1955.
Sex is sex. Sex is Love. Sex is WHATEVER YOU MAKE IT TO BE.
Till next time.