Many women are bothered by the fact that their man watches porn. Even though nearly every man does so, and does so regularly, some women have a problem with it or just don't understand why men are compelled to watch it.
In order to understand, you have to know a little about human history, biology, and evolution. Just as women evolved traits and instincts that reinforced the role women play in having and raising children, so too did men. But the role men play in reproduction is very different from a woman's. A woman can only have about one child per year (not counting twins and other multiple births), plus she and her child will be vulnerable and require care and protection for some period of time, and that was even more true before the era of modern medicine that began in the 1950s.
"

Men desire variation- it assures diverse genetics.

"
Women also bond with and establish an emotional connection to the person they have sex with. For these reasons,
women, where they had a choice, have always tried to find the best man they could to have sex with and to father their children,
with strength, the ability to provide and to protect being major factors in who they chose.
Because a woman can only have one child per year, she looks for the best man she can find to have sex with that YEAR (at least).
Men work very differently. Biologically, a man's job is to fertilize the woman's egg with his sperm, and once that is completed, his job is done. A man can impregnate at least one woman per day, potentially, so his criteria for having sex is based on finding the best woman to have sex with that DAY. In addition, evolution and natural selection favored men who had sex with, and thus fathered children with, as many different women as possible, in particular women who were as different from him genetically as possible.
By having a large and varied genetic pool, he greatly increased the chances that at least SOME of his children would survive both illnesses and any recessive genetic conditions that might be in his family. Men who failed to father children with multiple women could have a disease or genetic abnormality take the lives of all of his children, and thus his genes would die out.
That's Natural Selection at work!
This is why men developed the instinct and desire to have sex not only with many women, but with different TYPES of women; in other words,
men desire VARIATION.
It assures diverse genetics, collectively giving his children the best chance to survive.
As civilization developed, and rules and relationships were formalized and religion codified, most early religions allowed men to take multiple wives, though he was expected to provide and protect those that he took. As populations grew, and more fighting occurred from men looking to secure more wives, religion started to establish the concept of a single wife. If "god" allowed only one wife, the theory went, then men would be much less apt to start wars to acquire more, and to some degree, it worked.
But
men's desire for many and diverse women never went away
, and brothels and prostitution were present in every group of humans of any notable size, from back before the beginnings of written history. With no birth control, pregnancies among prostitutes were common, and society created rules to protect "official wives" by preventing children born out of marriage from inheriting the man's property, titles, or even his family name, ensuring the man's primary focus was on his own family.
Eventually, society even formalized non-prostitute girlfriends as "mistresses", and as the world recovered from the Dark Ages into the Renaissance and through the end of the 19th Century, mistresses were a common and even accepted part of society. Wives and legitimate children still retained all of the rights and privileges, and mistresses were of much lower stature in society, but the need for them was understood and accepted (though not always welcomed) universally.
"

Porn allows a man to see women who look DIFFERENT from the woman he gets in bed with every night, and so his urge to go out and pursue other REAL women dissipates.

"
Fast-forward to today: most men in relationships, whether a marriage or a boyfriend/girlfriend relationship, do NOT have mistresses or see prostitutes. Is that because men no longer feel compelled to have sex with numerous different women? Not at all;
men still have those strong instinctual desires
. But today, men have PORN, and the fantasies that they create in their heads based on viewing porn, that satisfy those urges to a great degree. Porn allows a man to see women who look DIFFERENT from the woman he gets in bed with every night, and so his urge to go out and pursue other REAL women dissipates.
This is a good time to address another issue women have with porn: assuming that the type of women your man looks at in porn is the type of women he wants to date/be with/marry. Women say "you can't be attracted to ME, because those women you look at look nothing like me!"
That's missing the point entirely:
no matter what a man's girl looks like, he's driven to be sexually attracted to women who look different from her
.
If she's a tall, thin blonde with big breasts, he may look at tiny Asian women, or curvy Black women, or dark-haired Latina women, not because he isn't attracted to his own girl, but simply because he desires VARIATION. It's biological programming that he can't control, just like women who get "baby fever" when all their friends start having children, or who panic when their "biological clock" starts ticking down.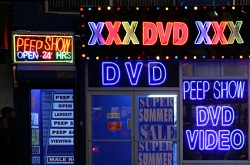 The thing to realize and understand is that
porn greatly reduces the urge to ACTUALLY CHEAT
. Instead of your man hitting on the girl at work, or going to bars alone to meet women, or chatting with girls on Facebook in order to meet and have sex with them to satisfy his urges for variation, he watches porn. And unlike those other alternatives, porn requires no personal interactions. Your man isn't talking to the girls in porn, has never met those girls, and probably has no desire to.
He won't develop an emotional connection with them and leave you
, because he's just using their images to satisfy his biological needs. Porn is cheap, convenient and the least dangerous option to the relationship.
If you take porn away, something would take its place; we'd be back to girlfriends, mistresses, and prostitutes, and I think most women would agree that porn is a far better solution than that.
For women who say "men should just focus on their girlfriend/wife and forget about other girls completely", remember this is a biological instinct that is deeply programmed into most men. It would be like telling women "just don't get attached when having sex" or "ignore your biological clock". Most people simply can't do those things, because the instincts and desires are innate; they're an integral part of what and who we are. Even men would like to be able to turn those instincts off sometimes, as many women would find it convenient to turn their own instincts off on occasion, but it's not possible.
The best we can do is acknowledge those instincts and deal with them in the way that causes the least amount of problems.
To date, porn is the best solution for dealing with men's desire for sexual variation, and if more women understood that, and understood what the alternatives were, they would feel very differently about porn.