Almost every day I see guys on here, social media and in real life who sadly don't understand how physical attraction works. I always see questions asking "Are all women bisexual or lesbians?" or "Why don't women find men physically attractive?" I'll be answering those questions here. They are also guys who still believe that all those fictional romance movies depict real life physical attraction. Sadly, initial physical attraction so far appears to be a one way street. It appears to work only for males.
Read this bold text carefully before you read the take. I can assure you that I have not been asking those anonymous questions, I am not posting this take as a stress reliever to release my frustration with this subject, I am simply trying to help out the guys that are stressed by this subject.

1.) Men are very visual
After months living in denial, I think I have to accept that women aren't visual. This means women are not going to get sexually aroused just by looking at a partially clothed random man. I wish women were visual but too much indications say otherwise.

2.) Study after study implies women aren't visual
After reading these studies, I'm currently more that convinced women aren't visual. This means they don't instantly find men physically attractive.https://www.netnanny.com/learn-center/article/165/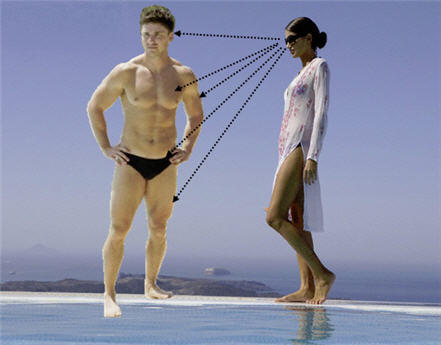 3.) There are exceptions
I know a lot of people will say "but women are visual" well, unfortunately they are the exceptions. https://www.google.com/amp/www.womenshealthmag.com/sex-and-love/5-myths-about-female-desire%3famp Which means that visual women are rare and that they might lose their visual nature as they get older.

4.) The proof is all around you
Why is it that us guys love looking at those advertisements of partially clothed women yet women don't like looking at partially clothed men? Why is it that commercials always show men checking out random women? Why is it that men always compliment women on their appearance on social media and on here by saying "You are so gorgeous" yet all women say to a guy's appearance is "you look good"? Why is it that there are social media pages with partially clothed women that cater to men but no social media pages with partially clothed men that cater to women? The only social media page that caters to women is a Facebook page called "Lady B%ners" but it doesn't even show partially clothed men, all it shows is men dressed in fancy clothing. Usually when a guy posts on the "how do I look?" Section, he'll rarely get any responses or female users will only say "You look good" but they'll never say "Oh my, you are so sexy!"
5.) Mutual attraction is very rare
While it's real, it's very rare. I personally view Mutual attraction as when two people feel attracted to each other's looks. It's rare because visual women are rare unfortunately.

6.) Are straight women real?
Yes they are but since radical liberalism is currently mainstream, people make it seem like straight women are rare. However, straight women are still common; you just have to move to a very conservative area to meet 100% straight women but even then, it's not guaranteed you'll find a visual one.

7.) Addressing the major worry
A lot of guys wonder if all women are either bisexual or lesbians. That's not easy to answer but I'll tell you this, no but... Ever since that infamous study got published on the web http://www.telegraph.co.uk/news/uknews/11977121/Women-are-either-bisexual-or-gay-but-never-straight.html , it's sparked controversy and many debates. It even angered many people. People always like to think that it's some kind of male fantasy but it's not. It's the fear that women aren't attracted to men. The same men who are disappointed that women aren't visual hate the thought that women don't find men attractive. The other issue here is that a lot of "straight" women believe that the female body is more "aesthetically appealing" implying that men are hideous. If a "straight" woman says that women are more aesthetically appealing than men, then chances are she's still in the closet(no offense). Also, a lot of women are said to watch lesbian porn but they claim to watch it because it's more "passionate" and less aggressive than gay male porn.

8.) Not as visual?
Perhaps all women are in fact visual but they are just not as visual as men are. However, this appears to be too good to be true. Since women never openly admit how hot a guy looks. Who knows, maybe women are just pressured by societal norms to not show their true feelings. https://source.wustl.edu/2006/06/erotic-images-elicit-strong-response-from-brain-2/

9.) Women still feel attracted to men
Even though women don't instantly lust after a "handsome male" they still feel attraction to them based on their looks because that's the sex they are attracted to. For example, while a man might be able to have lustful thoughts(if he wants to have those thought) when looking at a gorgeous woman, a woman won't be able to feel the same way when looking at a handsome man but will still feel attracted to him in the same way a man looks at a gorgeous woman without lust.

10.) What do you mean by so far physical attraction is a one way street?
I mean that the human brain still isn't fully understood. It can be argued that experts aren't on the human brain aren't even close to completely understanding the human brain. Even though a lot of studies imply that visual physical attraction only works one way(for males only) these studies could be proven wrong one day by newer studies. However, for now it's mostly accepted and almost certain that only men experience physical attraction/visual stimulation at first sight.
11.) How do I find a visual woman?
If you are like me in which you are only interested in visual women, then you'll have to have a handsome face, a nice body and have good fashion. Then you'll have to pay attention and see if random women in public continue to glance at you. If they smile while glancing at you it's a hint that they are interested in you.