I've seen this discussion going around a lot on G@G, detailing why "straight" women are so attracted to lesbian porn, and why we are also more likely to find attraction in women's bodies. I would like to present my own opinion on the matter, as I feel like it could de-mystify the argument a little bit.
Male and Female Sexual Desires are Inherently Different.
"The feeling"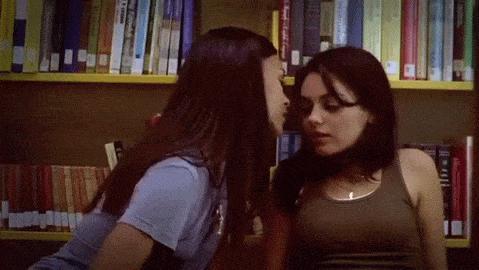 I think some people have a really hard understanding why so called "straight" woman would find a girl attractive and masturbate to lesbian porn, exclaiming that they are not actually straight but some form of bisexual or in the closet lesbian. Where I think the disconnect lies, is that men and women tend to enjoy sex in two distinct manners. Men are more set on the idea of whom they are sleeping with, how hot they are, what their body looks like, what gender they may be. This is why men are seen as more visual creatures, because they fantasise about the person or people they want to be with, and are more turned on by the naked body of the person they are attracted to. For women on the other hand it's more about what, what can you do to me, how can you make me feel, how can I make you feel, the actual identity of the person may be a bit more irrelevant. This is why women come off as more personality driven, because they're looking for someone they have chemistry with and have good sex with. When we fantasise, it's about what they can do to us and what the sex it going to be like, not necessarily your specific body. Again, this isn't absolute, I have had my fair share of perving and I bet guys are searching for a good sex partner, but I think there's a little disconnect here. I think this is why women, unlike men, are turned on by effectively every sort of porn (gay male, lesbian, straight) as opposed to their preference, because it's about the feeling.Our orientation lies in who is actually having sex with us (I personally am not a fan of actually having sex with a girl but I can empathise and get turned on by the pleasure of lesbian sex) and yes it doesn't mean where all latent bisexuals, I think it means they're is a larger grey area for attraction.
"Male vs Female Gaze"
I know I know this is a commonly use as a media/film/literature term and has major SJW connotations but I think it has an interesting insight into the male and female psyche. For the uninitiated, "gaze" in cinema refers to the way a filmmaker frames the camera to suit (usually) the sexual interests of the audience, either for men or women, but also specific to sexuality in certain situations. I think we're all pretty familiar with what is known as the "male gaze", where the creator depicts women (or men) in a sexualised and objectified manner to suit the taste of the male audience. There is a lot of attention put onto how the individuals look as well as placing them in a position of passivity. This film style suits the "whom" based manner of men's sexuality, as it focuses on a person or people ready for the viewers consumption. Interestingly, a female gaze is not actually the gender flipped version of the male gaze but has been theorised to be quite different in execution. I'd like to bring up Anna Biller's 2016 film the Love Witch (where my avatar is sourced from) to really showcase the guts of the female gaze.
In a conversation with Filmmaker magazine, Biller talks about how the film was explicitly created with female audiences in mind "I'm working very directly with female fantasy", which includes how women are more attached to the idea of "a sense of pleasure in fantasising about receiving the kind of love or admiration that a woman gets when she is looked at by men." It also details how the female sexuality, has a narcissistic component to it, enjoying the idea of looking at a beautiful woman in reference to ones self. I think that in enough itself adds a layer deeper into why women find other women attractive, because it directly reflects back onto them.

"Wanting more Sensual Sex"
This is very directed at the lesbian porn aspect, but I think another factor than comes into play in women's preferences is that lesbian porn is simply more sensual and focused on the woman's pleasure, not the man's. Pretty consistently we're seeing lesbian porn topping women's preferences, and many are left scratching their heads, but I think it's got to do with a mixture of different reasons. Firstly, I think this relates back to the previous two arguments, women want to fantasise about what's being done to them, straight porn doesn't reflect that, but lesbian porn does. I think lots of women get not satisfaction out of the and male centric way straight porn is created, and does not tap into the fantasies that women may actually have. There is more soft core, and "for women" categories of porn that exist, which are very popular with women, they cannot compete with the sheer volume of lesbian porn created in comparison.
"The Gap between Male and Female Fantasies and Reality"
I think this is a really important aspect of the difference in male and female sexual preferences on this topic. It's generally agreed upon that men's personal kinks and fantasies more readily effect their real life sexual preferences whereas women's do not. This was shown in the University of Montreal's study into kink, in which a large chunk of the women involved never wanted these to come true, in contrast the majority of men did want their fantasies to become reality. I think this extends to the idea of sex with the same gender, if men masturbate to it, it's what they want, not the same for women on the other hand. I can understand the confusion here, especially on the part of men, but I think you just have to acknowledge the female fantasy as less of an indicator of actual desire and behaviour, and more about an exploration of boundaries in a safe environment.
"Not Bisexual"
Something to remember for those of you who may be anxious your girlfriend/wife will run off with a woman some day.
I think there is a little more wiggle room for women's orientation than men's due to the differences in sexuality, but there are definitely women, including myself, who only want to have sex with men no matter the situation. I think it's important to detach fantasy from reality, understand that for straight women, it's men they want to be with with and to trust their judgement in this situation. They are not hiding any sort of closeted sexuality, it's just a difference in the way the opposite gender see their desire, and there's nothing wrong with that.
A lot more could be added to this argument, especially regarding the societal manipulation of sexuality in women vs men but I just wanted to keep it relatively brief.
Thank you.