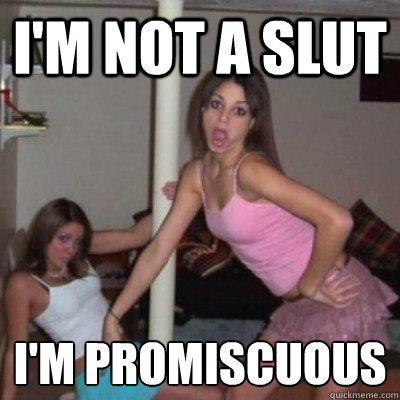 How do we know that a woman is just a hook up or a potential relationship? Experienced guys can tell it by just looking at your face.
When a man ejaculates in a woman, his semen and testosterone gets absorbed by vagina and it goes straight in her blood, so she develops behaviour shown by high testosterone (deep voice, muscles, high sex drive, hair loss, etc), a woman slowly becomes a male and loses her feminine self.

This is scientific explanation - https://www.ncbi.nlm.nih.gov/m/pubmed/3637620/ .

There are some telltale signs of a slutty/promiscuous woman who had a lot of sex -
1 - Masculine features
like deep voice, thick skin around neck and hips, dark circles around eyes.

2 - her hair is short.
(Long hair = feminity, but when you get railed like a bitch , you slowly lose your femininity and starts to have short hair like men, another reason is high levels of testosterone in your body due to too much ejaculation in your vagina)

3- she is very impulsive
. (Too much sex decreases your rational thinking controlled by prefrontal cortex which controls your impulsivity but too much sex numbs your rational brain and makes you impulsive to make risky decisions without thinking like sex on the spot, sex without condom etc)
4. Sluts have a "slutface''.
You either recognise it or not. Ever seen a sex worker? See how her face looks, no attraction on face, no glow, just like a bloodless zombie , face looking like a man etc, like the energy has been just sucked out of them and they are just walking zombies.
5- She starts looking like a man
, slowly a slut will become a man due to high amount of testosterone in her blood, her hair will be too less and short and her body will transform like that of a man and then she would want to marry a nice rich guy because then such women will be replaced by young feminine women who look way more sexy and guys will dump the old women and go for younger women.
guys, can you recognise a slut just by looking at her face? Please comment