I searched online and it showed me a map of breast size of everyone all over the world. It showed women from European countries and Caucasian women had the biggest breast, however I then noticed it was Gild a German tabloid magazine and that their data was quite sketchy. I notice they didn't have much info on Africans or Asians yet they showed that most of African women were A cups. Now if you've ever been to Africa you would know that's not true, so it felt off to me. But I see Asians with mostly small breasts. There was also a study done in
sciencedatabaseonline (.) org/ADB1/Scientific_Article_JOFHS (.) pdf
Which took 390,000 women from 108 different countries all over the world and measured their breast size and I noticed that in the African countries they had smaller samples and no pictures of them actually taking measurements of said people. I noticed in white dominated countries they used for 3d ultrasounds and measuring tape, as where in Asian and African countries they simply used measuring tape. All the women in their study 28-30 years old. In the article it said Non-Caucasian American (this includes black women and Asians averaged together) women had an E cup size while Caucasian American women had an F cup size. In conclusion it said Caucasian American women had the biggest breast of all countries..
Then afterwards I found another recent study that showed just the opposite that. That African American women had bigger breast than white women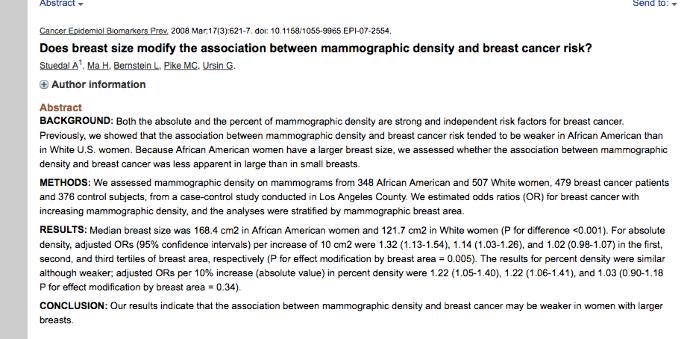 So now I'm even more confused. Do white women or black women have the biggest breast? I like to suck tits a lot (yes I am lesbian) and I've sucked breast from many races of women and in my experience white and black both have big breast and Asians have small ones, so all these studies are confusing me.
So I ask in your experience which race has the biggest breast on average and why are Africans rated as A cups when I've never seen an average African with A cup tits.